Lina Šlipavičiūtė-Černiauskienė, a visual artist from Lithuania has started an inspiring project "Walls That Remember" where she recreates the moments from the Jewish community's past on to the walls in Vilnius, Lithuania. The project is a beautiful reminder of the community that thrived at the beginning of XX century and had enormous influence on the city but almost disappeared with no traces. Probably not too many Shoreditchers know that this area once had a thriving Jewish community as well which played a big part in Shoreditch becoming THE SHOREDITCH. Also, there are so many similar areas around Europe which can relate to the project so we decided to have a quick chat with the artist about it.
G: Tell us about "Walls That Remember" project, what was the inspiration behind it? 
L: I was born and raised in Vilnius. The Old Town has always fascinated me with both its beauty and its history. The Jewish community was flourishing here, some of its traces are still visible for the naked eye, the others are less notable, but once you feel it, you see it as if it was right in front of you. The more I explored this topic, the more I wanted to bring this feeling back to life. Also, the very topic of Lithuania's Jewish history is still sensitive and, for some people, undesirable. I wanted to use my artwork to spark discussions and make the memories of a vivid Jewish community in Vilnius seen for anyone who enjoys a walk in the narrow streets of the Old Town.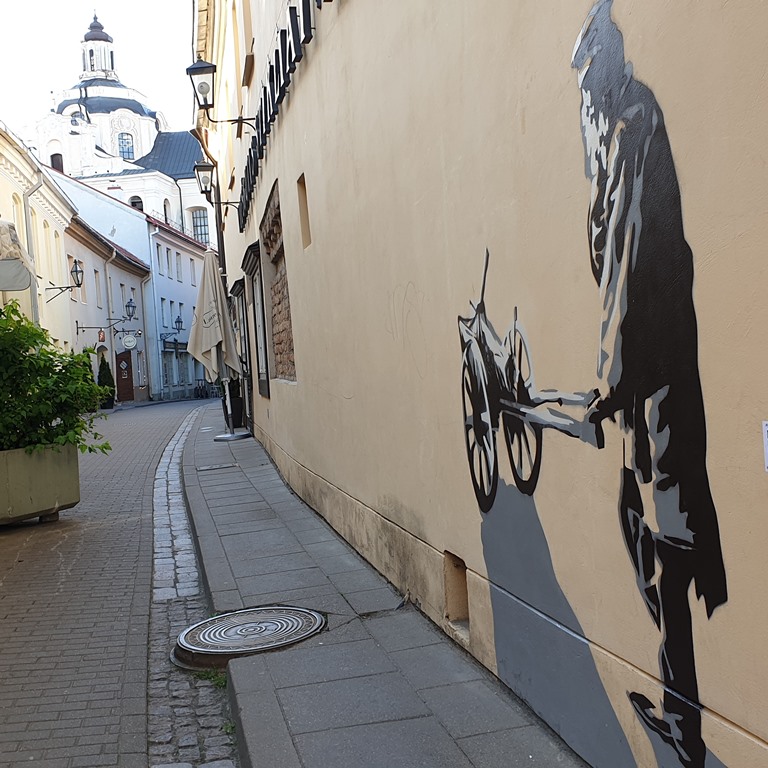 G: Where did you find and how did you choose the pictures you want to print on the walls?
L: There was a lot of research, exploring both internet and printed archives, mostly, in Lithuania and Poland, in search of footage taken in the Vilnius' Jewish Quarter prior to the horrors of World War II. After going through hundreds of photographs, I picked a handful I found most suitable for graffiti projects. With the help and advice of Lithuania's Jewish Community, I was seeking photographs that reflect the diversity and beauty of the Jewish Quarter's everyday life. My aim was to show that these people were just like us, with their own routine, joy and sorrow. And most of all – with their own love of Vilnius, just like the one we have now.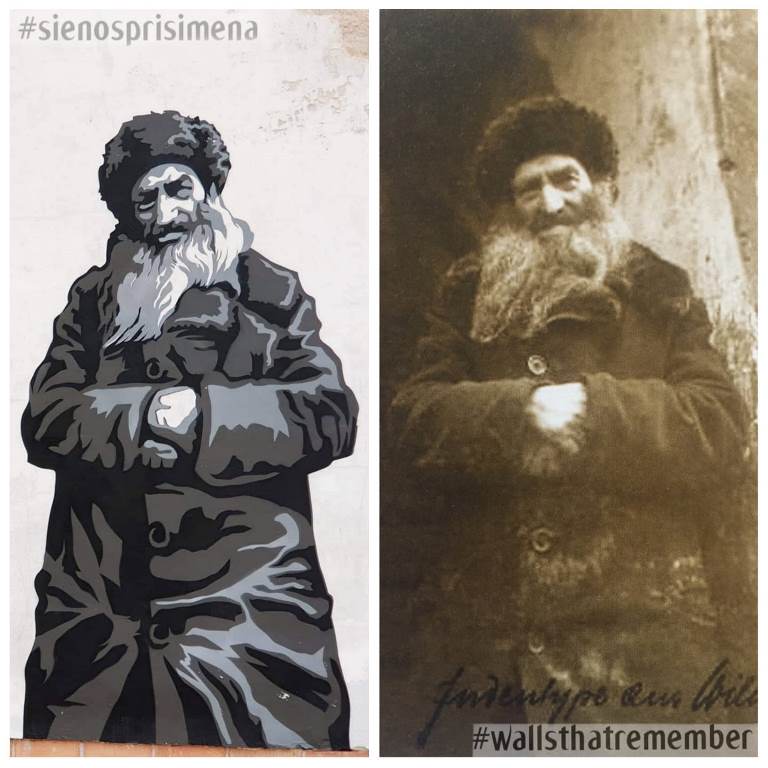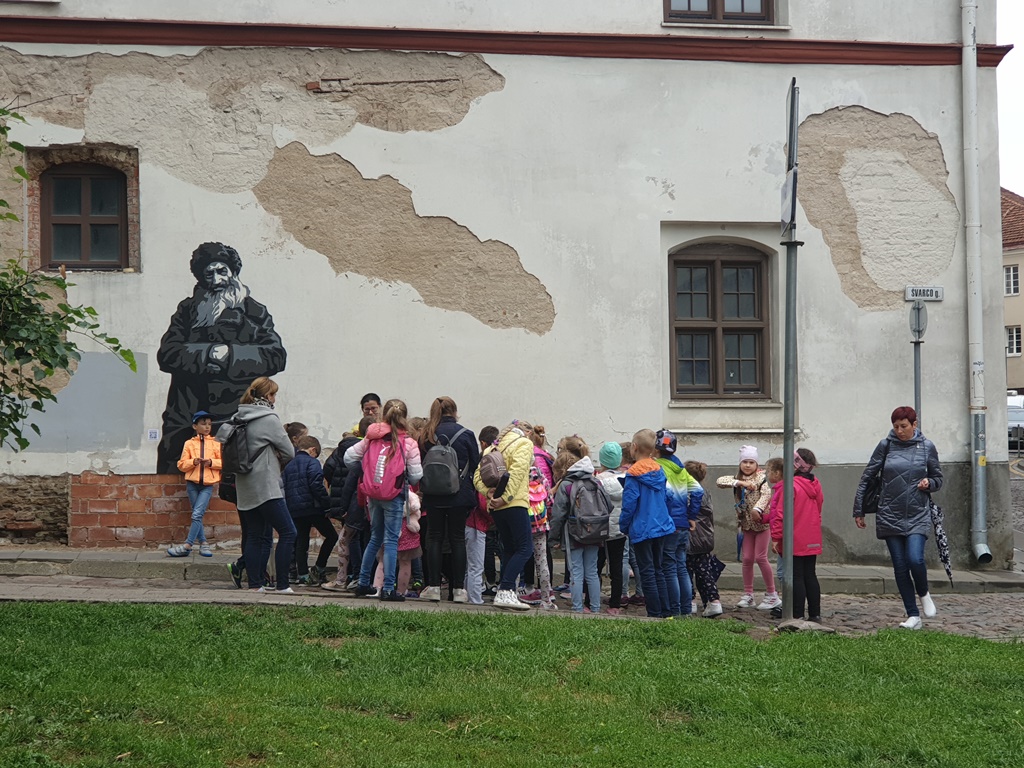 G: Why do you think it is important to share the stories in the pictures? 
L: Visual art has a distinct impact on people. First, it catches your attention. Then, it makes you curious. Finally, it makes you feel and think. I did not want to create a history lesson or a lecture – I wanted people to see back in time, through my artwork, and get their own ideas and feelings. I seek people to embrace our history and respect our diversity, in race and ethnicity as well as in beliefs or sexuality. Nowadays, we are yet again facing attempts to legitimize intolerance and hate, and humanity knows just too well, where this can lead. So this is also an attempt to tackle this issue by the means of visual art.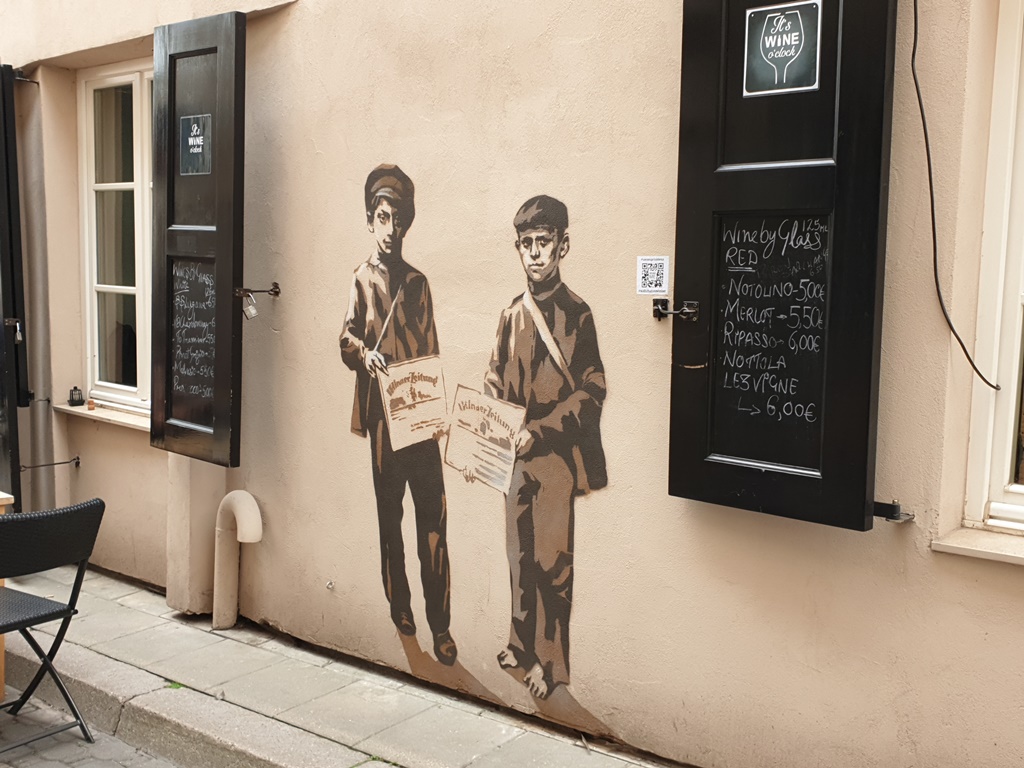 G: What would you say has been your most memorable experience while developing this project?
L: First and foremost, it was the widespread support the project received. It feels great to see people stop by our artwork, take selfies and smile. While we were spraying graffiti, numerous people from different countries stopped to listen about the project, thank us and support the idea. The perception of the project in the Lithuanian community is very warm and welcoming, it makes me feel like the idea came just in time and in the right place. I would also like to emphasize one episode that happened while we were working on the most recent graffiti. A school trip was passing by, and it happened when we were unveiling the first picture of a Jewish boy that was selling newspapers. When those children saw that boy, they welcomed it with a chorus of "woooow!" I still can't wipe the smile off my face, whenever I remember it.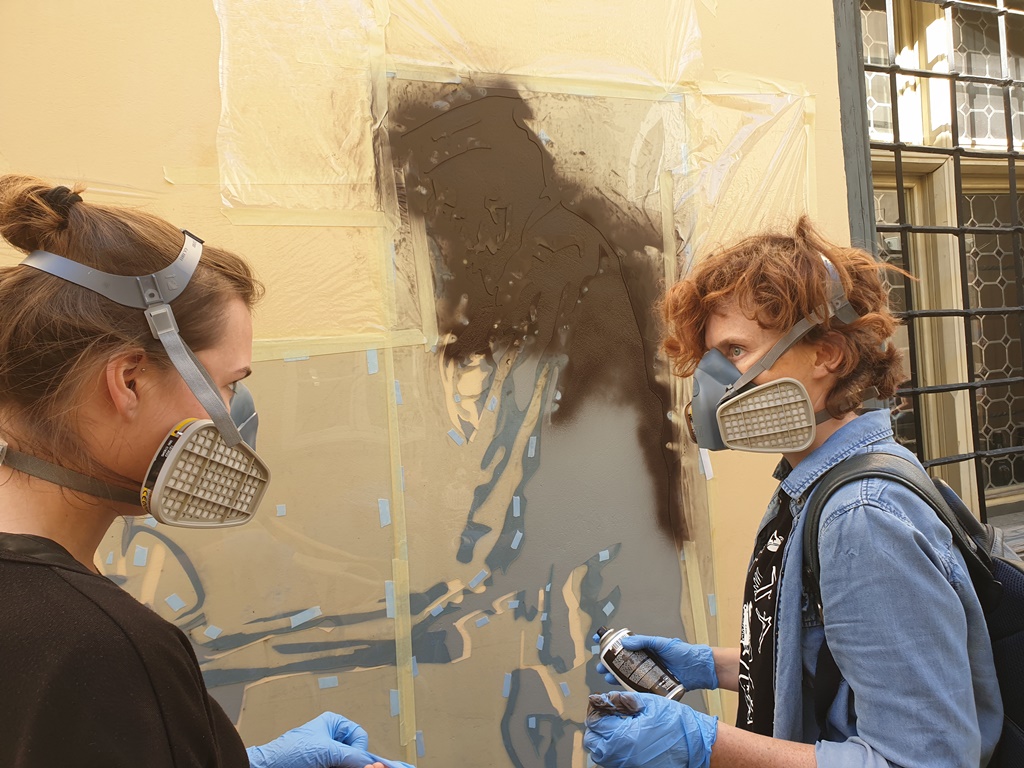 On a separate note, it was great to have the best people behind me. My friend and colleague Lauryna Kiškytė was simply perfect both in assisting with the artwork and in completing the pieces on the walls. Also, the project would have been nearly impossible if not for the help of architect Andrius Kenstavičius and my husband Šarūnas, who helped in tackling bureaucracy and communicating about the project to the general public.
G: What are you future plans? Are you planning to run this project in other cities/countries?
L: At first, I wasn't thinking of expanding the project. But after all the welcoming reactions received from both Lithuanians and foreigners, I am increasingly thinking about creating some artworks of Walls that Remember abroad. First of all, in the other European countries that used to have large and flourishing Jewish communities. It is a memory we cannot forget, and I believe that human communities cannot advance without facing their past.
Social links:
Facebook: https://www.facebook.com/wallsthatremember/
Instagram: https://www.instagram.com/sienosprisimena/