Miss Kim is a legendary Dominatrix from Shoreditch, who has been practising the fetish lifestyle for over 30 years. Kim's work with Club Rub has been documented and added to Bishopsgate Institute's Library as cultural heritage. We had a chance to catch up with Kim and we are happy to share her incredible life story on MiS.
G: How would you describe yourself?
Kim: The Queen Bee! I think first and foremost, I'm a fetishist. Huge love of rubber, leather, stockings, uniforms, gloves, high heels etc. Then I'm a fetish club promoter, then an educator and lastly a dominatrix. Basically, that's the order it all happened in too!
G: What did attract you to the fetish world, how and why did you start the Club Rub?
K: Attracted? I was never attracted to it. It wasn't a conscious decision to go along to my first fetish event 31 years ago. I got taken there. I really had no idea what I was going into and was also a little afraid. I made my friends hold my hand the whole night. Thirty-one years ago there was no internet, fetish was underground. Folks just didn't know about it. You might have accidentally found your way to the top shelf of a magazine shop, and been intrigued by the fetish magazine there, but you didn't know. Not really know! Everything is so accessible as it is nowadays. You can find out about anything that pops into your head now.
I have to say I felt totally at home at my first event and couldn't wait to go to my next party. Everyone was so friendly. Not predatory. It was a very creative environment. Exciting.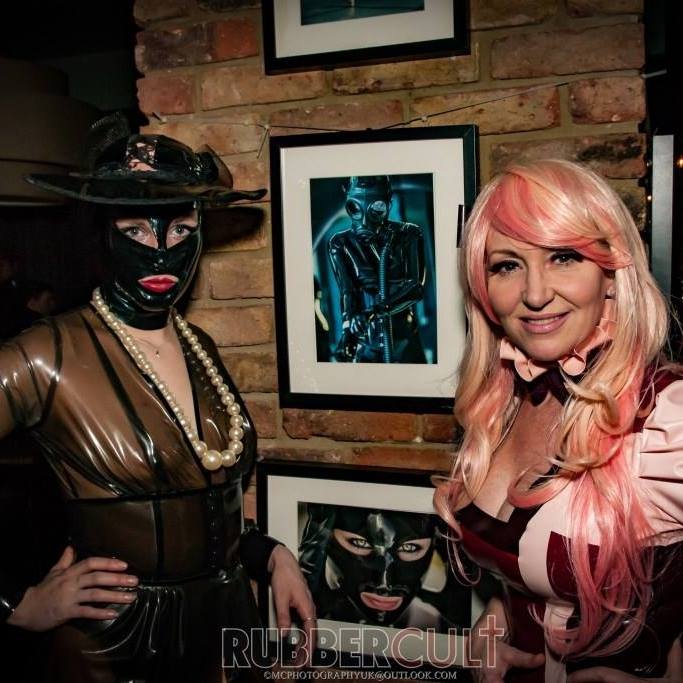 G: When did you realise that you will be doing this for the rest of your life?
K: Probably after the first 18-20 years. You see ambition has never played a leading role in the story of my fetish career. More like meaningful contribution. I've always been intent on doing a good job. Providing for the community, of which I'm a huge part. Now I know I will always do it, in one way shape or another. Just like Cynthia Payne I'm edging into legend status. I like that.
G: You've been running the Club Rub for more than 20 years, what were the toughest and the best moments and how did you get through them?
K: The toughest part of the club promoting world is finding the right venue. Location, location, location! Believe it or not it was easier 20 years ago. Folks were happy to go somewhere that wasn't an actual club. I used snooker halls and restaurants in the city which usually closed on the weekend. When I found a good venue, they let me stay for years and years. Fetish people a very nice and respectful. Not a single problem with the venue owners. Then it began to change half way through the recession, when venues were getting sold and demolished, for new apartment black buildings.
An ongoing problem when you have been running an event EVERY month for 22 years is momentum….keeping that going! It's hard sometimes to motivate yourself each month. Especially towards the end when the venue problems started, and as the crowd getting smaller and smaller.
The best moment of my club promoting career is being immortalised in the Bishopsgate Institute. Forever, available for people to go and see it! It's in Bishopsgate, Shoreditch and you don't have to be a member to go and see it. Just walk into the library and ask to see it.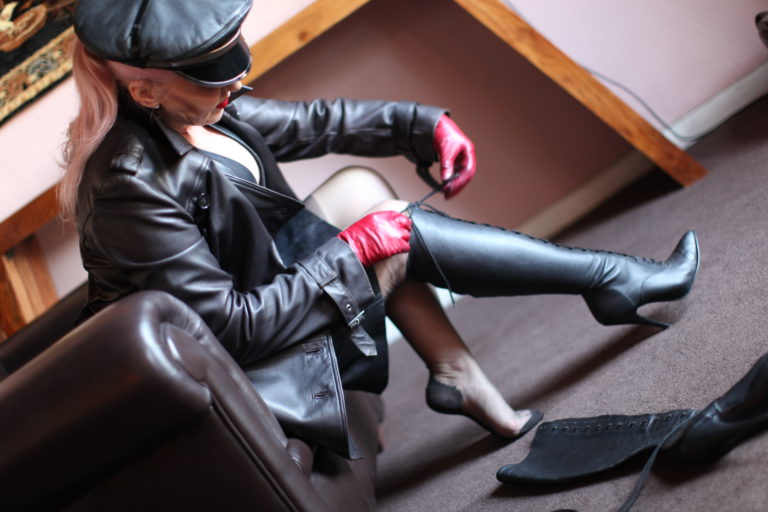 G: What were the strangest request that you got over your career as a dominatrix and what were the funniest moments?
K: Everyone likes to ask this question and to be fair, there are not that many. Most guys want the regular kinky stuff. I had a client who liked to have his eyeball rubbed, with the rounded end of stainless-steel cutlery.
I have funny moments every day. Just like my sissy in this lips gag!
G: Do you think fetish is a bit of an escape from reality, do you think everyone should try it at least once and why?
K: To assume that every single aspect of fetish/BDSM is not for you, is just ignorant. There are lots of guys out there, who like a little bit of a finger up the bum, some would think that was kinky. Some like to feel breathless as they ejaculate…that's kinky! There are lots of things but it all depends who's sliding scale we are working on. What some would consider risqué, other would not!
There are lots of way to escape reality, BDSM doesn't seem that bad when you list most of the others: alcohol, drugs, gambling, fighting…train spotting!
G: Fetish games seem like very playful experiences, what's the creative process behind the acts? Do you prepare in advance for it, plan what you are going to try to do, what are you going to ware and etc. or is it always just a natural flow.
K: The best sessions are always the planned ones. The ones where you have put some thought into it. I like to go though it in my mind, then add some swagger – humour too!
G: How do you reinvent your routines not to get bored of them?
K: A vast assumption is to think all guys, and therefore the sessions,  are all the same. Everyone is different. In this job you could never get bored, as no two weeks are the same. From sissy play to fully leathered up for interrogation. From a rubber-lover encased in layers of latex from head to toe, to intense and prolonged nipple play. From tease & denial, to lock-up time for a chastity client. A popular misconception is – it's all about pain. Wrong!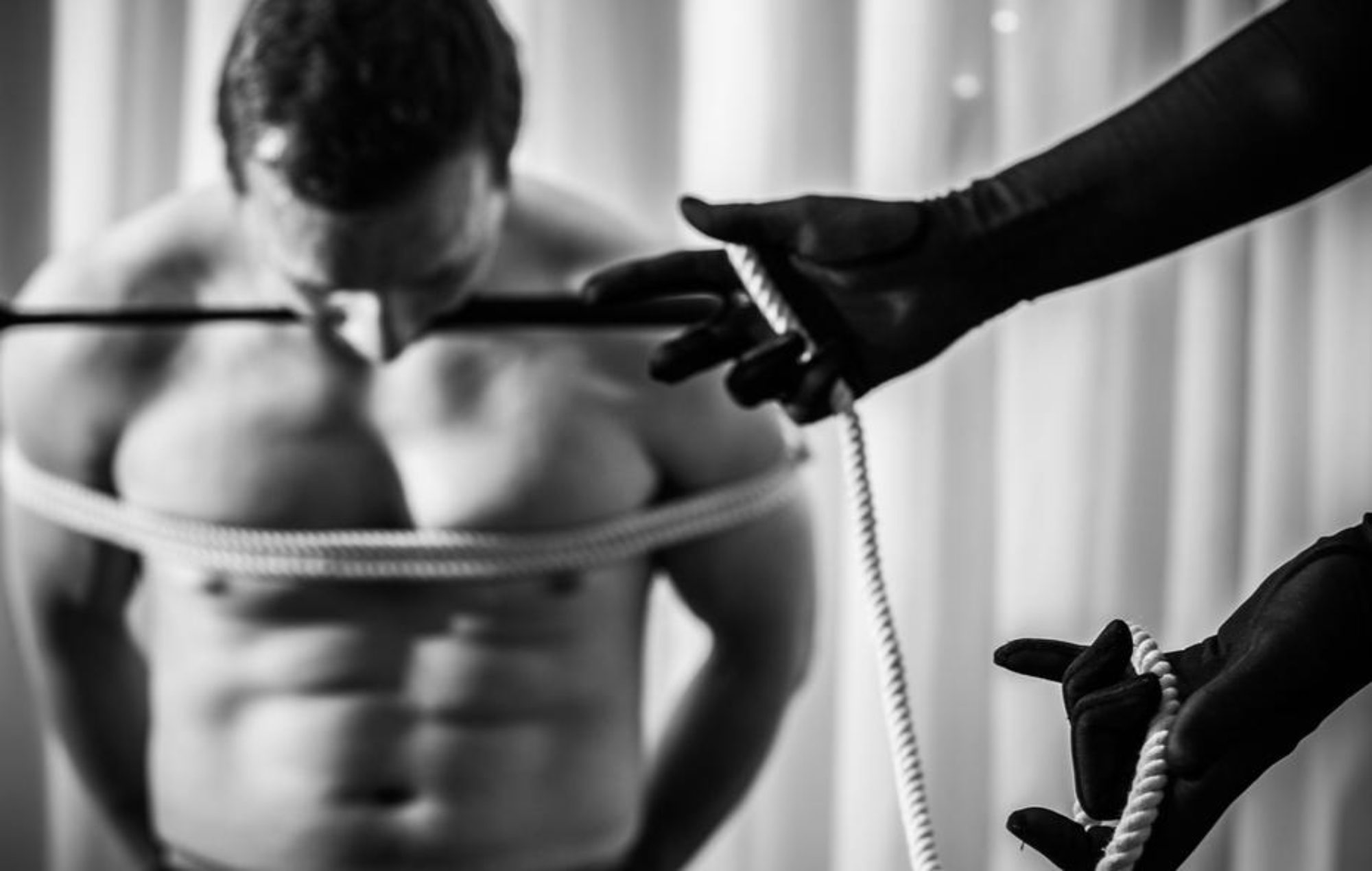 G: What does inspire you and where do you look for inspiration?
K: After 31 years, I'm my own inspiration…my furtive imagination is enough. Experience has got me here. I love art erotica, both illustrative and photography. Some of the old fetish magazine and books are fascinating. I have quite a collection.
G: You also started the "Mistress Workshop", can you tell us more about it?
K: Uniquely I teach other ladies how to take control. It started eight years ago and I'm the only one doing this. I teach beginners and those who are always eager to learn more about the 'art of control'. I do this from my own studio here in Shoreditch. The group classes are on a monthly basis. One-to-one workshops can be arranged during a week day, these tend to suit ladies who have more specific needs. The group classes are a hoot, as I aim to not only educate, but entertain too. Plus the Cava is flowing as they arrive, with tea and cakes at half time, it's more than just a workshop.
The class is less about techniques, and more about formulas and motivation. I pretty much cover every question anyone has prior coming to the workshop. Well, I always ask at the end and no one can think of anything. They have information overload!
G: What are your future plans?
K: Keep Rubber Cult, my rubber-only fetish club, running at Simon Drakes House of Magic twice a year. As a rubberist I love to have somewhere to be around like-minded people and PARTY.
Evolve my Mistress Workshop so I can spend more time travelling.  Spend more time visiting my second home in Spain.
Cultivate more relationships with the sort of clients/BDSM activities I enjoy. I'm fortunate to be able to pick and choose who I see as life has been fruitful.
xxx
Websites: