British artist and art ambassador for The Parliamentary Society of Arts, Fashion and Sports (UK) Natalia Kapchuk created "The Lost Planet" art project. All 24 artworks are dedicated to the climate change and environmental problems around the world. Soon the series of works will be presented in London, then in New York and Moscow.     
xxx
What inspired you to become an artist? 
From early childhood I was engaged in creativity, because my mother is an artist and a sculptor. She instilled in me a love of art and beauty. I often watched her work, learned from her the basics of creating sculpture. I entered the city art school, where I studied art history, practiced painting and modeling and years later successfully graduated from it. Along with my interest in art, I had another passion for learning foreign languages. I received my B.A. in international relations from the Ural State University. Several years later I enrolled in Central Saint Martins and Chelsea College of Arts to update my professional skills in the art. I moved to London and opened my art studio. Through my works I express my viewpoints on global issues of environment that worry me.
Tell us about your art? What is your new series of works "The Lost Planet" about?
The project consists of 22 pieces, two wall sculptures and video installation. The whole collection will be displayed in my first solo exhibition in London. In each work, I raise environmental issues of global and local significance; show it negative effects of human activity on the world ecology. I make a contrast between the problems with the beauty of our planet. In the "Yin and Yang" work I talk about ocean pollution by oil products. The continents divide the piece into two parts: one of them is bright blue shade, and the other is dark blue and black. Using these tones of blue colour I compare originally clean ocean water, and oil-contaminated water. But these parts are not equal in size. I believe that humans will find a way to change the situation and stop the pollution, rid the ocean of plastic garbage patches and clean up oil and chemical spills. That is why the "clean water" part is bigger than the polluted one. Several pieces are dedicated to the plastic pollution spread worldwide. Plastic forms mountains of debris on the land, huge patches drift in rivers and end up in oceans, microplastic particles get in the digestive system of marine inhabitants, birds, animals and people. During the past 70 years human have created 8.3 bn tons of plastic. These terrifying statistics are reflected in "The Lego World" piece in which I depict our planet in many layers: simultaneously showing what lies at the bottom of the world's oceans and covers coastlines and lands. The base layer is made of plastic packaging products poured with resin; the top is made of Lego bricks. Together these materials represent the process of plastic globalization. In daily life we are surrounded by plastic at home, at work, in transport, and in a supermarket – it is everywhere, we even depend on it and we can't cope with increasing of plastic waste. As a result, we poison water, the world's oceans, ecosystems, and we drive species to extinction. The new food chain where microplastic enters in the human body is built. Through endless consumption of plastic, a human being kill themselves. Knowing the scale of such ecological situation, it is impossible to stay away from the problem.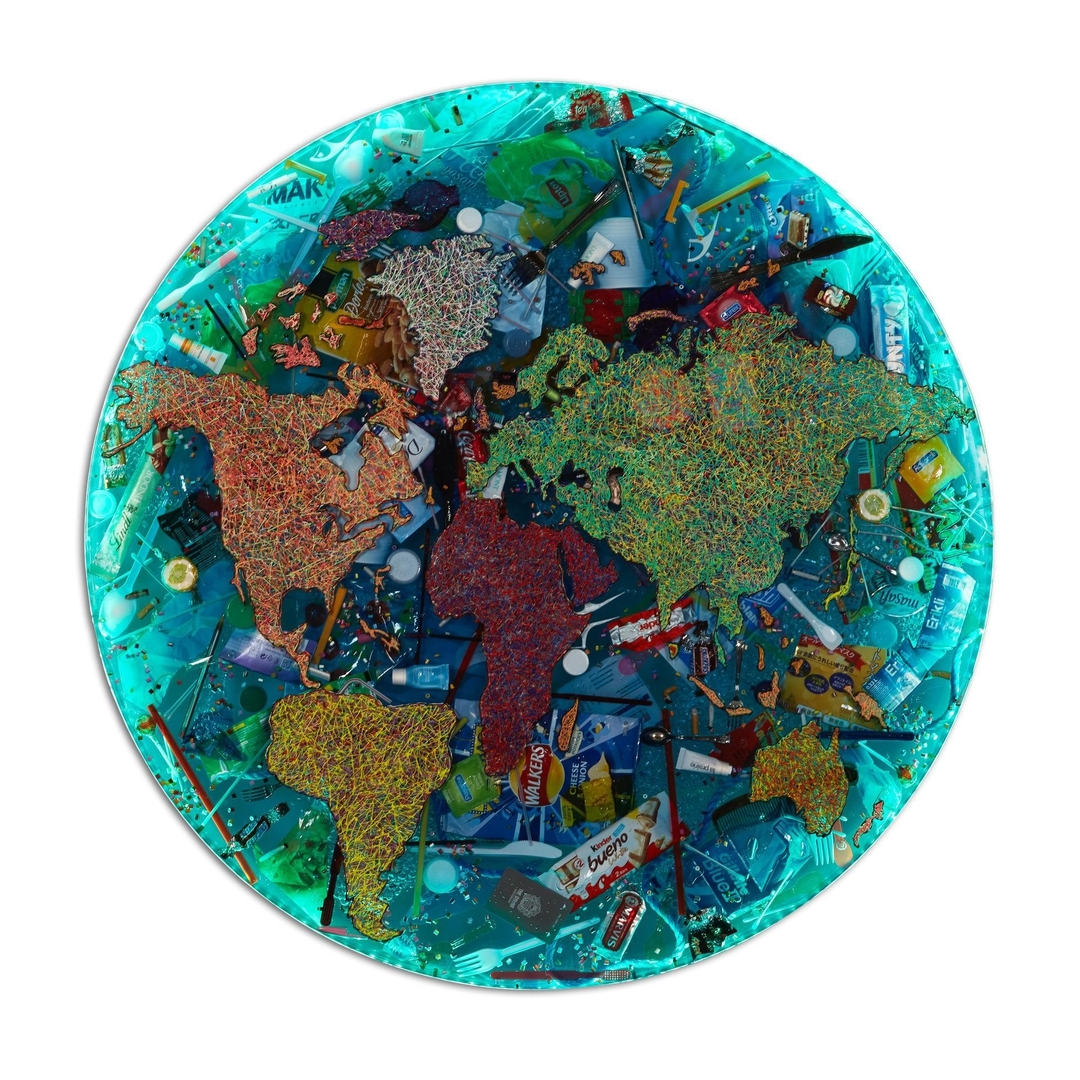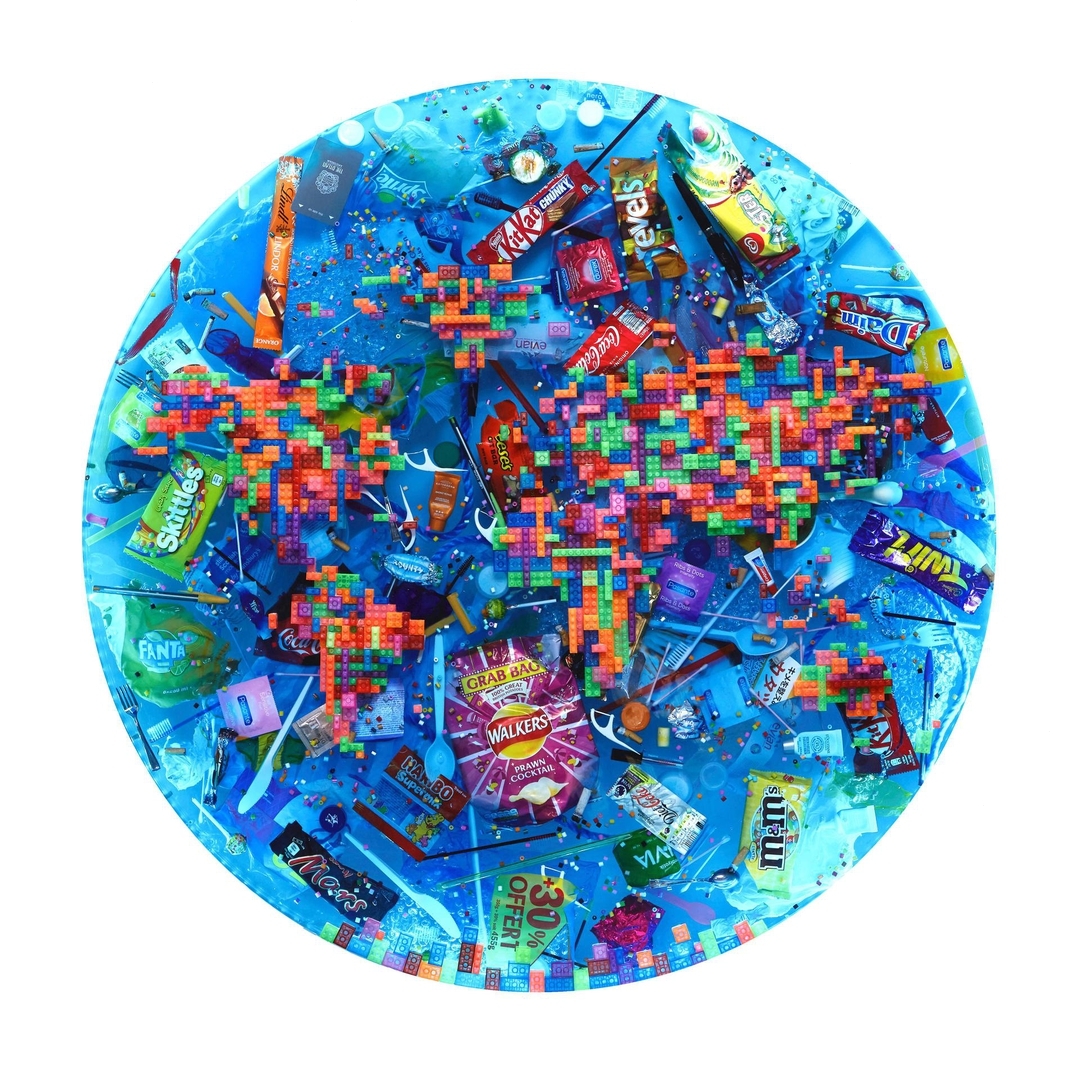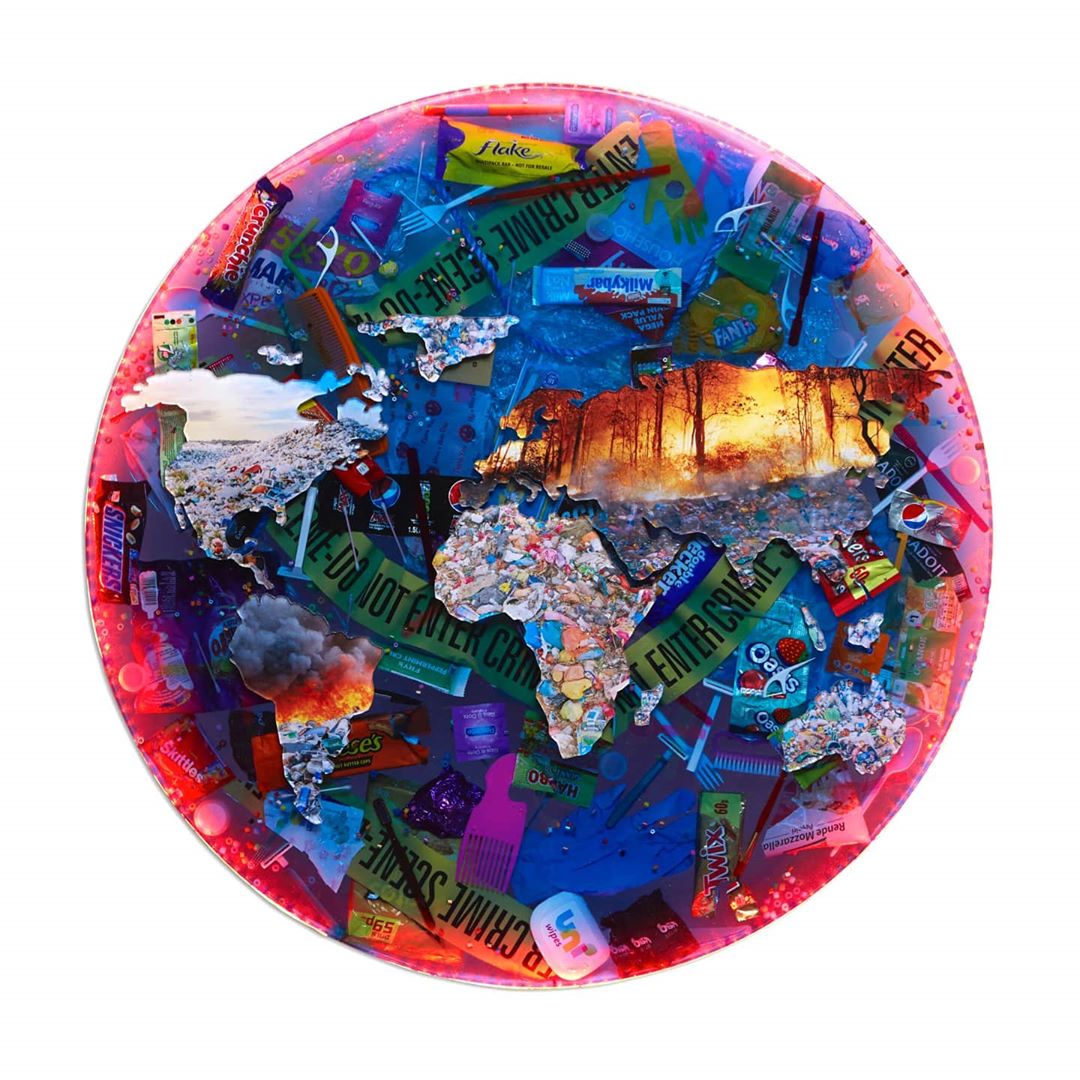 Why did you choose an eco-theme to reflect in your art? What do you want a viewer to think or to feel?
I am very interested in environmental issues, I read reports and studies of scientists about global warming, and its consequences, human activities and industry impacts. I see negative changes of nature around me, and in different corners of our planet and I'm really scared for the future of next generations. We must stop the total Earth pollution in the present time, keep the increase in global average temperatures, save biodiversity, prevent the extinction of species, and solve many environmental problems. I expect that my project will impress the viewer and make to think about his attitude to nature and conscious consumption. Each of us should leave no garbage on the coastlines, sort, clean, and recycle its own waste, reduce plastic and electricity, try to use recyclable materials and give a "second life" to clothes and interior items.
Last year you launched a special video project Kapchuk Art Diaries in addition to your work in the studio. Tell us about it?
This project was created for a specific purpose. I wish every art lover got opportunity to see significant exhibitions, festivals, art fairs, biennials, and to hear professional opinions of curators and gallery owners about the latest trend in contemporary art. The video project on my YouTube channel is a very convenient format for the viewer without attending the event everyone can see art collections presented by famous galleries and new pieces of world-renowned and talented artists. I focus my attention on such important art events as Art Basel Miami Beach, Frieze London, Anima Mundi art festival in Venice, Cosmoscow show in Moscow, London Art Fair, and others.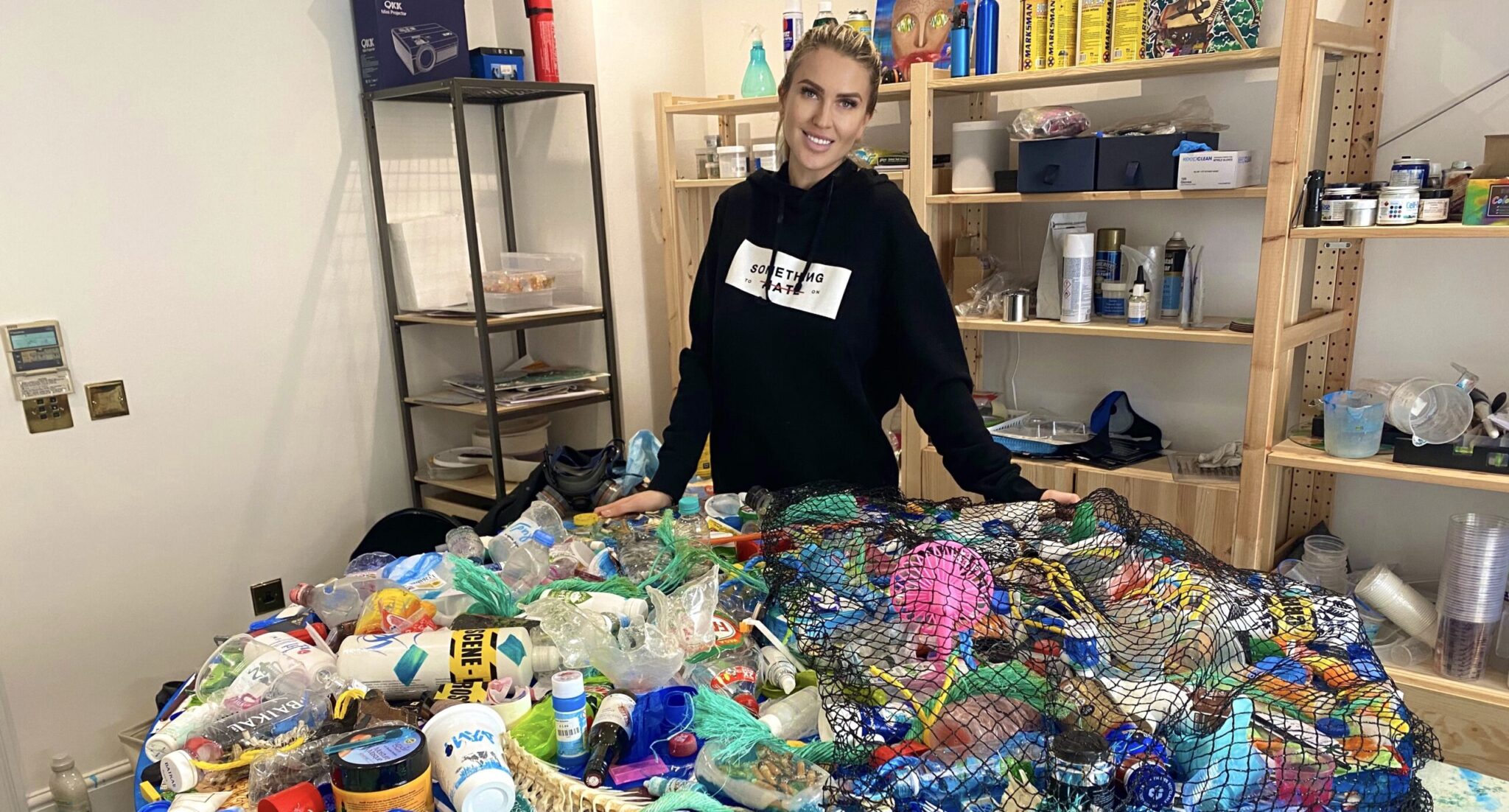 You live and work in London. What are your favorite places?
I love London. The city is very beautiful and filled with breathtaking places, incredible architecture, and gorgeous side streets. I enjoy walking in Kew Gardens, when I am around the area. It is incredible place to see a living plant collection from arctic nature to the tropics. There are greenhouses, conservatories, park landscape, forest zone, arboretums and a lot of interesting things. I rest from the bustle of the city there. By the way, I found out that the trees planted at Kew reduce around 8.6 tonnes of harmful carbon dioxide emissions of London's air every year. Visiting galleries, modern art museums, main art events in London and art exhibitions are a part of my free time activities. I was in "Eco-Visionaries" exhibition at the Royal Academy of Arts, dedicated to environmental problems and ways to solve them. I especially remembered the video installation with northern white rhino. The last male of this species in the world died in 2018 and now genetic-scientists are trying to create male in an artificial way. It made me think about some serious question: do we have the right to destroy natural habitats that causes animals extinction, and then, feel like God, to create it again? Returning home that evening, I could not get rid of the heavy thoughts.
Following posts on your social media, we can see that you travel a lot. What place did you visit on your last trip and what does travel mean to you?
I like to travel exploring new places for my development. I get acquainted with national traditions, local wildlife, and some significant eco problems that exist in the area. Many works from "The Lost Planet" series show the places featuring natural landscapes, ecosystems and environmental changes I visited by myself. Some local natural materials I use in my art objects. Black sand of Stromboli volcano covers "The Hidden Power" top layer. In the "Ocean's DNA" piece I put fermented moss and sand from the coastline of the Maldives. In "The Russian Wildfires" you can see a Siberian bark. In January I visited Latin America, spent a few days in wildlife safari in the Amazon Jungle. I watched animals and birds in their natural habitat. It was an amazing sight. I discovered local flora and found out some facts about deforestation in this region; how people and eco-oriented organizations help to restore this ecosystem and what they do to protect it from the dangerous human activity.
What are your future plans?
I will present "The Lost Planet" project at my first solo London's exhibition in the coming months. Next, I plan to show it in New York, and Miami during Art Basel. Besides this I have a request to display my artworks in Russian. According this schedule I need a lot of time and action to implement these ideas, but from the other side I'm going to start working on my new art project. And several works will be featured at group shows in UK and Europe. Now I'm waiting that the coronavirus pandemic will be stopped, and people will be able to get back to normal. But all of us should draw the appropriate conclusions.
Social accounts:
Website: https://kapchukart.com
Youtube: https://www.youtube.com/user/NataliaKapchuk
Instagram: @kapchukart @kapchuk