In Chengdu, China, you can take the longest walk of your life. 
The winding Wuchazi Bridge sits above the Fu Hé River in South Chengdu. Residents call this pedestrian bridge the "infinity bridge" because it was built in a way that allows you to cross the bridge and circle back the other direction, all without having to step foot on land.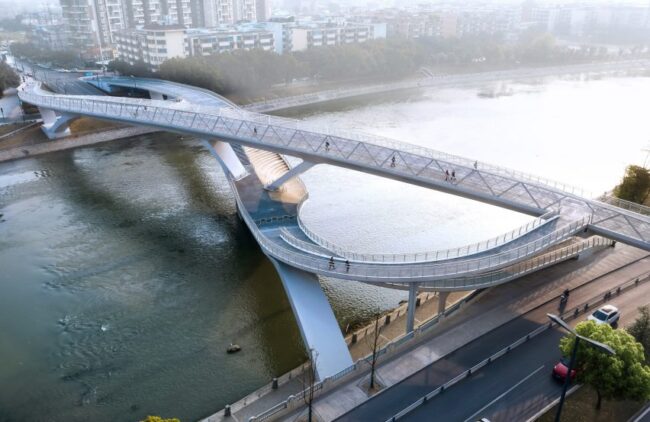 Berlin based architects Tom Wünschmann, Achim Kaufer, Wei Cai and Philipp Buschmeyer worked with Chinese design firms SADI and JDTM to create the Wuchazi Bridge. They all had a mutual desire to create a space that is used for recreation as well as functionality, according to an interview with Dezeen. 
The bridge itself connects Century City New International Conference & Exhibition Center and the riverfront park with neighbouring residential areas. You could, of course, take the straight shot path across the top level of the structure. Or, if you're feeling more adventurous, you could meander through the many winding paths sitting closer to the river's surface. 
These paths are not just paths. The lower routes include multiple stopping areas for pedestrians to catch their breath or take in the scenery. One stopping point is an expansive south-facing seating area that connects the lowest part of the bridge to the ground level.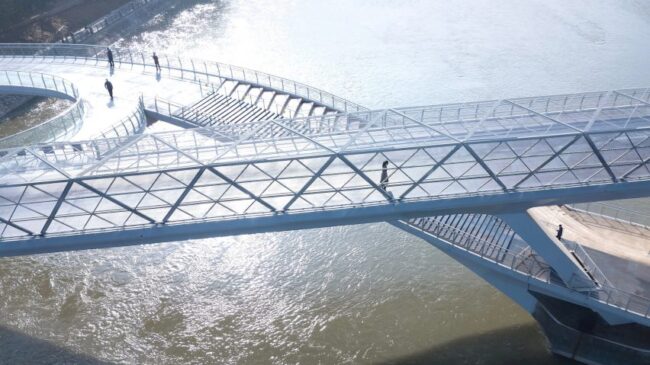 Achim Kaufer told Dezeen that the designers wanted people "to experience all possible scenarios between nature and urban cityscape." He wants pedestrians to spend meaningful time on the bridge – not simply use it as a way to get from point A to point B.
This figure eight-like infrastructure gives residents the opportunity to get some space and fresh air in a densely populated area. 
Whether you're hurriedly cycling across the straight and narrow path or wandering aimlessly below, the Wuchazi Bridge is sure to give you just what you need.