American artist Janet Echelman recently completed her latest work, Bending Arc in St. Petersburg, Florida. The installation comprises 1,662,528 knots and 180 miles of blueish twine woven to look like the combination of a large beach umbrella and waves.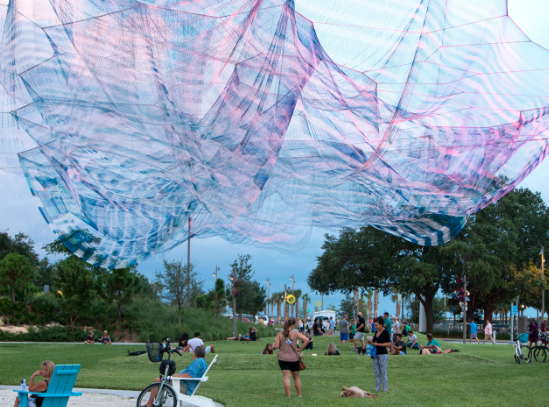 The site's connection to the 1950s-1960s civil rights movement inspired Echelman to create this installation. The site is a park overlooking the Pier District in St. Petersburg that was often used to hold local protests. Those protests led to the 1957 U.S. Supreme Court decision that allowed people of all colours to use the municipal beach and swimming pool, which had previously been reserved for only whites.
Echelman named the sculpture "Bending Arc" after Martin Luther King Jr's words: "The arc of the moral universe is long, but it bends toward justice."
The aerial sculpture also symbolizes embracing change. The woven threads move and bend with the wind – constantly changing shape. During the day the installation is blue and casts soft shadows on the ground below. At night, however, it turns into an eye-catching mix of magenta and violet light.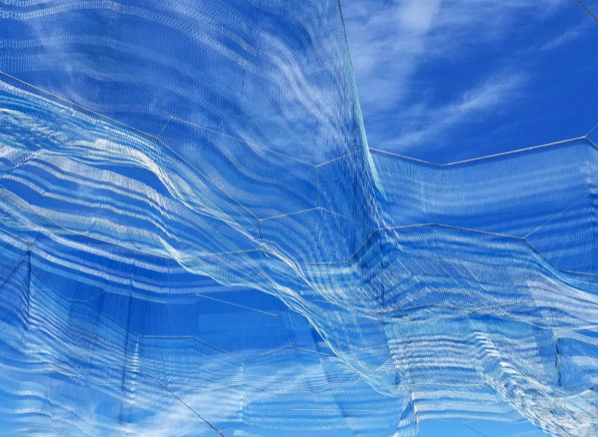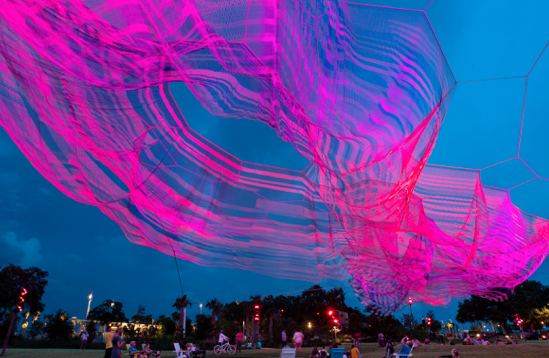 The thread itself is also impressive. Echelman used the same rope to anchor her structure that NASA used to tether the Mars Rover. Because of this, the structure can withstand up to 150 mph (around 240 km/h) winds. 
"The sky is the canvas for my artwork," Echelman states on her website.
This stunning new installation provides people a place to sit and reflect on the world and our place in it. Underneath the ebbing and flowing arcs, people can remember the brave and difficult work done by protesters in the 50s and 60s, and consider how to continue their work today.