Artists help to bring colour to Thamesmead's canals.
Four new large-scale murals have been commissioned to transform Thamesmead's network of canal underpasses into colourful and vibrant spaces for everyone to enjoy. Five artists, including one local young designer, have come together during lockdown to create the murals at eight underpasses that connect Thamesmead's four-mile network of picturesque canals.
Print and textile designer Paige Denham, who has lived in Thamesmead all her life, won a design competition held by Peabody, in partnership with Moniker Projects, as part of its Thamesmead Canal Mural Programme. Paige joins internationally established artists Louis Masai, Jo Peel, Hixxy and Xenz who have spent lockdown 2.0 creating the murals which will enhance the canal walkways that are being used increasingly as part of people's daily exercise. The murals feature the area's wildlife and natural inhabitants reflecting its original 'residents'. The permanent artworks will be accompanied by way-finding signs to guide people to local landmarks and open spaces.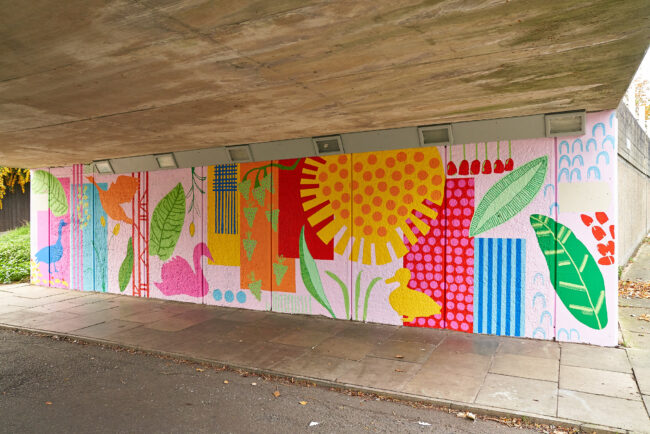 24 year-old Paige was selected as part of an open call competition by a judging panel including representatives from the Nature Forum, Youth Eco Development Council, Peabody and Moniker Projects. Her bright and joyful interpretation of Thamesmead's landscape can be seen at the underpass by Woodpecker Close.
Paige said: "Painting a large-scale piece of art, which will be there forever, has been a career goal of mine. To be able to paint a mural in my hometown alongside such inspiring and well-respected artists is an absolute pleasure. It is an incredible opportunity to share my colourful outlook on the world with the residents of a town that I treasure so much."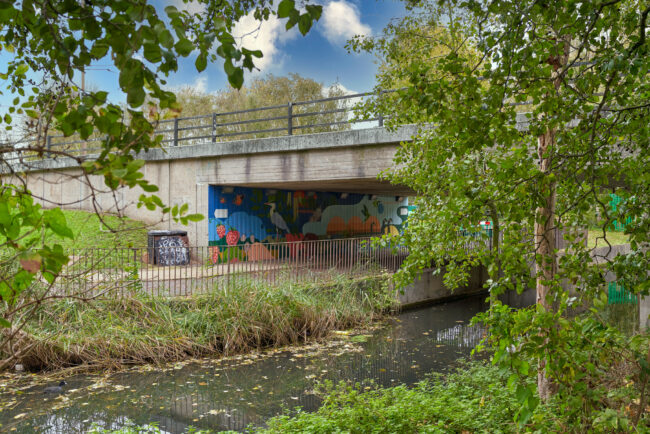 The programme has been coordinated by Moniker Projects who were commissioned by Peabody as a part of its wider cultural programme in the town. They spoke to residents at the Thamesmead Market events as well as local community groups and schools in developing the murals.
Jo Peel, known for her iconic cityscapes, has received input from Hawskmoor Primary School and has created a skyline of Thamesmead's most loved buildings along the canal underpass next to the town centre. Hixxy, known for her large-scale flora and fauna murals, has painted Thamesmead's thriving wildlife in the underpass next to the Tump 53 Nature Reserve.
Louis Masai is committed to raising awareness of endangered animals and will be painting a series of eels, which do inhabit Thamesmead's waterways, and a series featuring the rare Carver Bee. Xenz has spray painted murals of birds and plants all over the world and will be depicting local birds on the footbridges and underpasses along Crossways Canal.
Designed around water, Thamesmead is widely known for its striking Brutalist architecture and to many its reputation is synonymous with the film A Clockwork Orange which was filmed in the area. It comprises elevated walkways, towers, five major lakes, a nature reserve and a series of canals.
Adriana Marques, Peabody's Head of Culture for Thamesmead, added: "These underpasses have been dark and unloved for years but now will be brightened up with colourful, high quality murals that celebrate Thamesmead's wildlife and landscape, and some of our iconic architecture. It's exciting local talent like Paige will be one of the artists bringing about this transformation, and that we're able to bring culture into everyday spaces in Thamesmead. We hope this is just the beginning of more public art and large-scale murals to come."