Art on a Postcard (AOAP) will feature original works by Dr Chila Kumari Burman in their 2021 International Women's Day Auction.
Chila's joyous installation on the façade of the Tate Britain celebrating Diwali has been cheering up the whole of the UK during lockdown, both in person and via Instagram. Chila, who describes herself as "Punjabi Liverpudlian", draws from her British upbringing and Hindu roots to create vibrant landscapes which challenge stereotypes of Asian women and the politics of femininity. The effervescent neons and life enhancing messaging of Remembering a Brave New World has hit exactly the right note over the past lockdown and has just been extended to the end of February due to its huge popularity. Chila has created four unique cards especially for the AOAP auction which are all typical of her beautiful and intricate style crossed with her wonderful sense of humour.

Other artists of note on the line up include Claudette Johnson known for her large-scale paintings of black women; Caroline Coon whose work explores sexuality from a feminist standpoint; Japanese born, Brooklyn based artist Yui Kugimiya whose work is unique in its use of traditional painting techniques to create quirky stop-motion animations and Antonia Showering whose lockdown year included a White Cube show and another with Timothy Taylor.
"I am thrilled with this year's line-up and the artwork is outstanding. A lot of the works looks auto biographical which is especially fitting as the women's auction is as much about standing in solidarity with the women The Hepatitis C Trust supports as much as fundraising" – Gemma Peppé founder of AOAP.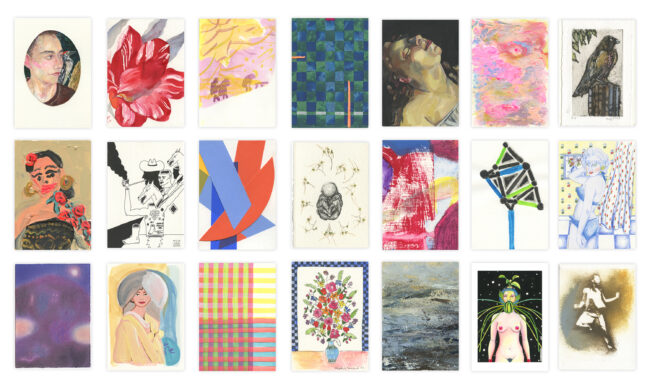 The reserve price for all the featured postcard sized works of art will start at £50. The auction will take place via Dreweatts from 25 Feb – 11 March 2021.