The latest in the series of vibrant public art installations overtaking Kensington + Chelsea's empty retail spaces has been unveiled today. The next of the High Street Windows is presented by London-based artist LUAP, who takes over the All Saints storefront in Notting Hill.
Commissioned by The Kensington and Chelsea Council and presented by the organisers of Kensington + Chelsea Art Week, the High Street Windows project is a set of visual art interventions taking place in empty storefronts throughout the borough. The aim is to engage passers-by in a celebration of culture and creativity with empty stores transformed into public artworks dealing with important current issues.
The commission titled 'Good Vibrations' is from multi-disciplinary artist Paul Robinson, known professionally as Luap, who has transformed the windows of the disused All Saints store on Westbourne Grove with a thought -provoking piece that addresses issues around mental health and wellbeing.
LUAP wants to share his difficult journey with mental health in the hope that he can inspire others not to feel so alone and to seek help when help is needed. His campaign also supports CALM, the mental health charity which runs a suicide helpline.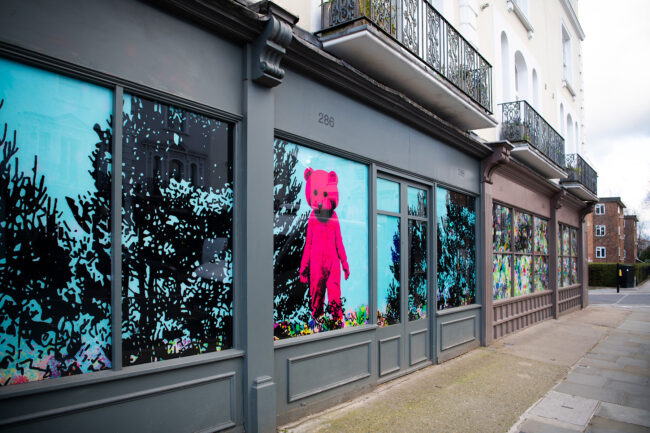 An adult-size Pink Bear features in almost all the work by LUAP; it acts as his alter ego, muse and model, his escape and a bridge to dealing with mental health issues. In 'Good Vibrations' the artist presents the Pink Bear standing alone in a forest.
"We then had another session where I visualised and drew the tree I wanted to be… And so I shed my negativity and embraced positivity. As my branches spread and my leaves sprouted, I grew a bridge to connection, enabled by nature. I hope this work will be able to help others to find solace.  Hopefully, it brings some positive energy."
The artist describes how nature inspired his recovery from adult loneliness and depression."Initially, it all started with a single tree photographed in diverse environments, then superimposed on wallpaper invoked from my childhood. It reflected me and my mood. Drifting, guarded, isolated, a solitary tree in a forest surrounded by trees," he continues "I have the feeling many of us feel like an isolated tree in a forest full of people. The pandemic has only served to expose this harsh truth ever more."
Disconnected from people around him, in his younger years, LUAP was diagnosed with dissociative disorder. As he entered adulthood his depression deepened and with it the vast disconnect. Upon discovering Cognitive Behaviour Therapy (CBT) he was able to explore his mental health issues with a therapist; she turned on a different light when she asked him to draw a tree or three to represent emotions or people in his life, how he felt.
Organiser Vestalia Chilton comments, "LUAP's work is so relevant at a time when the population has been through such a traumatic twelve months. It is hopeful, inspiring and it reminds us of how isolated some have felt this past year. We hope that it resonates locally and reminds people that although we may feel isolated we are surrounded by likeminded souls."
The council is working to support our residents and give a helping hand to our high streets in a creative and reactionary way. The pandemic has had a colossal economic impact on our communities, on mental health and wellbeing; many freelancers have lost their livelihood. This project aims to lift the spirits while giving much needed support to the artists and landlords." Cllr Catherine Faulks
Public art installations in empty retail spaces have already been created for the High Street Windows initiative by artists Ian Kirkpatrick and Fiona Grady in High Street Kensington, with Dotmasters, Alexander Ikhide and Gala Bell installing work in South Kensington.
High Street Windows is part of a growing trend across the capital to transform disused retail units into spaces for inspiring art and follows the announcement that the former Oxford Street Debenhams will be reimagined as an art space. The series of installations in the Royal Borough lead up to the annual Kensington + Chelsea Art Week, a major celebration of public art for all to enjoy this summer.
Good Vibrations – 290 Westbourne Grove until 15 April 2021
@kcawlondon @luap