French street artist Nerone has joined the prolific New Brighton Street Art Tour, with his biggest UK mural to-date 'Belladonna'.
Government restrictions on UK travel prevented Nerone from leaving London to paint in New Brighton on two occasions, until now.

As lockdown began to ease in the UK, Nerone travelled from East London to create a huge new street art piece in New Brighton's independent Victoria Quarter. The artwork features Nerone's unique and dreamlike, psychedelic flowers, which appear to elegantly drip down walls onto the pavement below.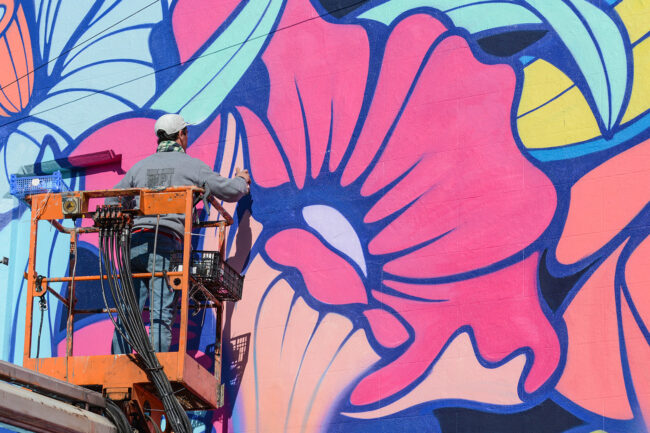 The New Brighton Street Art Tour is a free open-air art gallery, including more than 25 artworks by notorious national and international street artists. Dotmasters, Ben Eine, Fanakapan, Mr Penfold, Snik, Smug and INSA's work can all be spotted on the Tour. At 15m x 10m Nerone's 'Belladonna' addition is the artist's biggest UK artwork.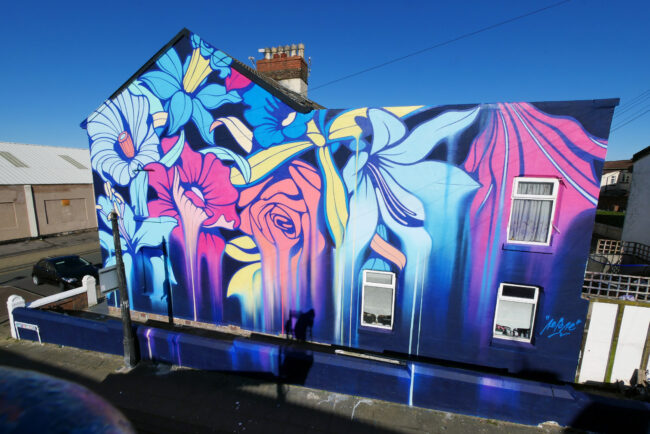 "It has been an incredible experience creating my dripping flowers for New Brighton Street Art and to be part of the transformation of this city. It's impressive to see what this Team is doing out there" says Nerone.

Nerone's colourful and outlandish walls can been seen around the world: Paris, New York, Cartagena, Bangkok, Berlin, Marrakech and Seoul.  Inspired by the energy and vivid atmosphere of the street; in Bordeaux and Paris, Nerone now lives, works and draws inspiration in East London.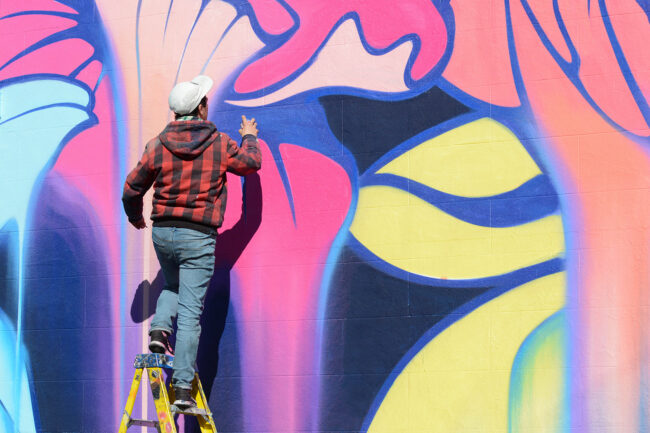 Robert Jones – Street Art Director of regeneration company Rockpoint Leisure said "It's been third time lucky arranging for Nerone to come and paint with us – but it's a terrific and visual way to mark the town opening for business again after such a turbulent year."

"Like everyone, we had to put all our development plans on hold for twelve months. Now we can finally pick up where we left off. There's some big art projects in the pipeline."

"Nerone's work 'Belladonna' is absolutely striking – it's so positive and upbeat, the colours really pop against the sky. No doubt it'll quickly become a favourite on the Tour."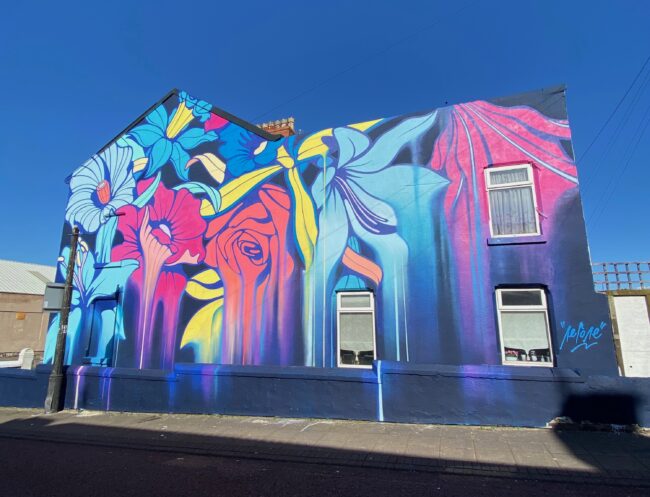 More information about Nerone and the New Brighton Street Art Tour can be found at www.newbrightonstreetart.com
Picture Credits: Pirate Pete