Tigerlily Hill, a world renowned artist with deep Caribbean roots (she is from Cayman Islands, both parents with Jamaican and British ties)) has traveled a great distance in her lifetime to gain her current status as a very popular international designer. This beautiful, young, woman has been turning heads and wowing audiences in the fashion industry for decades and it doesn't look like she'll run out of steam any time soon.
Getting to Know Tigerlily Hill –The Basics
Currently she's a fashion designer commonly known in America as a celebrity wardrobe stylist and TV personality.  She is no stranger to international traveling as she has been traveling since an early age. Having such a high level of exposure at such an early age naturally would broaden one's perspective on life. And this is exactly what Hill experienced firsthand.  "For me, fashion is about flexibility and creativity. My early travels exposed me to women from all parts of the world and how they dressed and, from then, I have always been fascinated by their style and how their culture influences what they wear. I feed my creativity with extensive global travel," said Hill. 
Her family decided to settle in Iowa for professional reasons, also, by default, causing Hill to settle as well. She furthered her education in Iowa along with her brother Nikolai at the University of Iowa. There she completed a first degree in Business, a move that was urged by her parents who, while supportive of her desires to enter the fashion world, wanted her to have an alternative. She later moved to London where she studied apparel manufacturing- a very deliberate move on Hill's part as fashion remained her passion. 
The family returned to the Cayman Islands where Tigerlily blossomed working in the Finance industry whilst opening a small womenswear boutique.. She then experienced her first big break with the American television debut on Glam God with Vivica A. Fox] where she was a celebrity wardrobe stylist. The experience gave her inspiration to carry out her own creative ideas and so she did, creating her own line of clothing designs. This resulted in the creation of Crown Atelier, Hill's signature line and most prominent success.
Styling Celebrities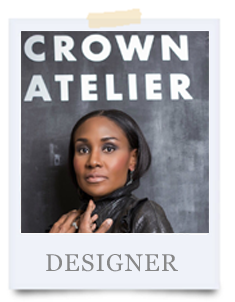 Multiple famous individuals such as Keira Knightley, Hilary Duff, Taryn Manning, Carla Gugino, Maria Menounos, Catt Sadler, Haley Bennett have all donned her blouses, creating an immediate demand for her talent in the industry. Crown Atelier spiked the number of interested parties in her work. The VH1 project was also a Launch pad for her clothing line as she moved up towards greater things. She describes her designs as sophisticated, comfortable, classic and fun. Her target markets are both the women who want to be fashionable at the office clothes as well as the ones who want the full glamour treatment on the red carpet. 
She has worked on numerous award shows, music videos and films as a wardrobe stylist and costume designer spreading her talent and unique designs across the globe. In June 2012 she won the Emerging Designer Award at Caribbean Fashion Week. On June 22, 2016 her brilliance was again acknowledged. She was given an award that was to signify the potential she had in her field of work, the Emerging Designer Award at Caribbean Fashion Week. The Cayman National Cultural Foundation (CNCF), presented her with an award in 2016, a symbol of their expectations of Miss Hill based on nothing but the quality of her work itself. But they weren't the only ones to recognize her excellence as so did the Essence Magazine in which she was highlighted as one of the designers to watch. 
Her recent ventures include an eco-friendly swimsuit resort line and a diverse talent/mother agency, that manages a diverse group of individuals in the fashion and entertainment industry. She shares both ventures with Caymanian model and best friend, Nik Stewart. Both companies have an underlying theme of diversity, transparency, passion, positive attitude and vision. 
Undoubtedly, Tigerlily Hill has evolved into a true global fashion megastar.