A partnership between Tate Collective and Better Bankside has brought five stunning new artworks made by five emerging artists, to public spaces around Bankside. The project, Beyond Boundaries, showcases the talents of young creatives at a particularly challenging time for the arts. Each artist was invited to produce a new commission that responds to lockdown, the easing of restrictions and the chance to see people again, with the resulting works aimed at reconnecting people with each other, their local area and art. The site-specific artworks celebrate the character and creativity of Bankside – a neighbourhood that has experienced constant reinvention. Launching today, the artworks will remain in place for at least 12 months in locations around Tate Modern and the Bankside neighbourhood; Southwark Street, Gambia Street, St. Felix Place, Canvey Street and Great Suffolk Street.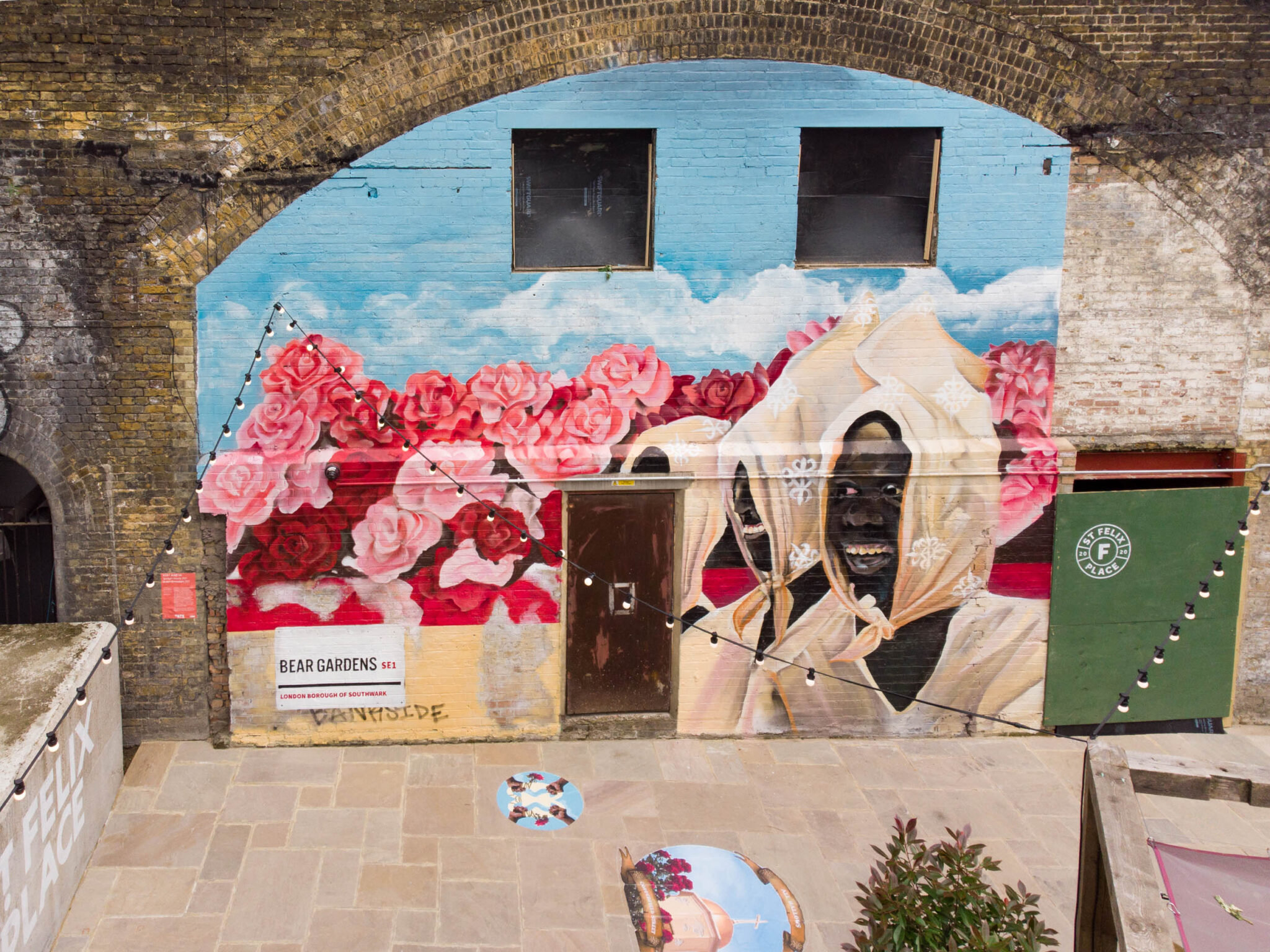 The five artists are all based in London and work across a range of mediums addressing issues affecting young people today. For Beyond Boundaries, Koby Martin's work explores the history of performance, theatre and music of the area. His wall piece Spotlight Dreams depicts men who performed as women on stage, at a time when women were not allowed to act. He uses the Ghanaian symbol funtunfunefu denkyemfunefu (Siamese crocodile), which represents unity – an overarching theme of the work. Blk Moody Boi asks "what does it mean to be safe outside?" Their illustration shares a message of solidarity while reflecting on the experience of communities that must consider how they move in a space. Zeinab Saleh invites passersby to reflect on the role that music and creativity plays in our daily lives, especially during a period of lockdown. Her work connects songs which touch on moments of sadness, joy and happiness. Opposite a local café, Hannah Hill pays homage to the area and the people who live there through a series of motifs inspired by shared stories and research. A hand holding a scale represents her hope for a healthy work-life balance post pandemic. Megan Visser reflects on the ability of food to bring people together. She covers the ground with images of playful abstracted body parts, creating a psychical meeting point where people can stop and eat.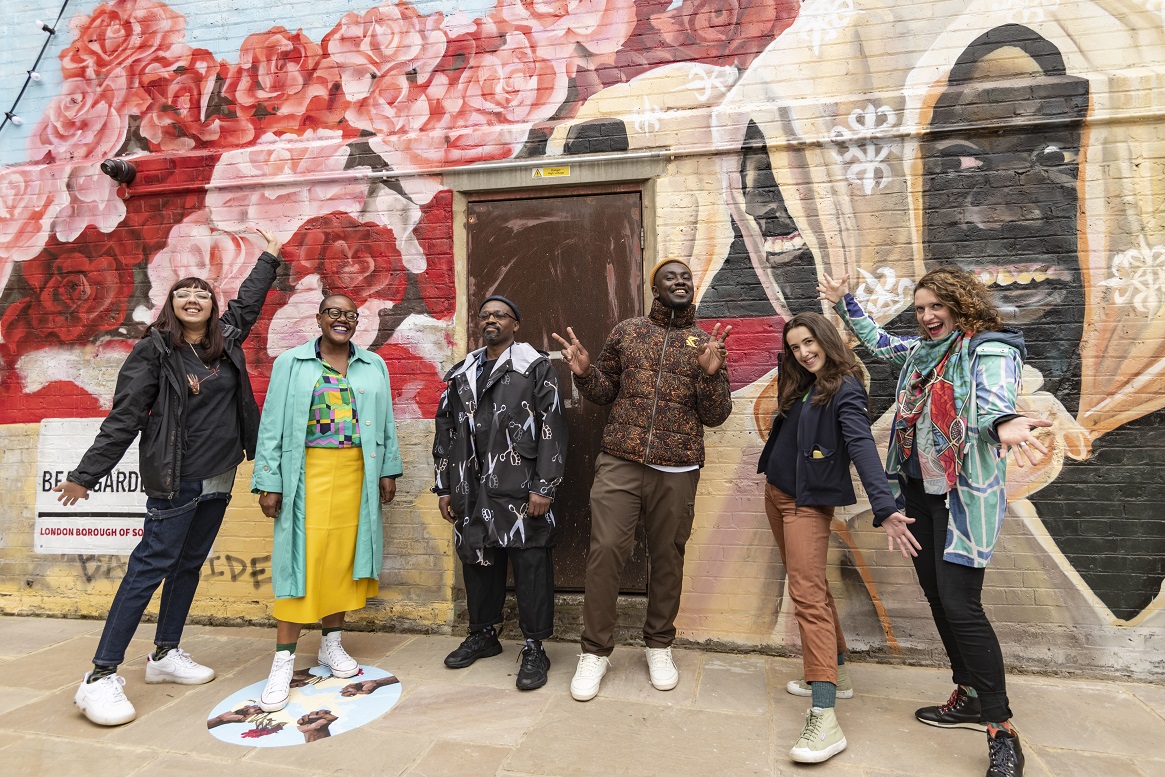 Each young artist, all at the start of their careers, was paired with an established artist mentor to guide them through the project, discuss their work and offer advice on the industry. Working on this project in a group of peers and with experienced mentors provided a valuable opportunity to network, develop important skills, and for all artists to support each other during a period where everyone is feeling more isolated than ever.
In addition to bringing colour and joy to the area, Beyond Boundaries aims to create sites of interaction for the Bankside community. Better Bankside and Tate Collective Producers evolved the project in dialogue with local residents and businesses, with each site-specific artwork informed by local stories. Later in the summer, a series of socially distanced activations will bring together local youth groups for a live experience with others and the commissioned artworks.
Koby Martin, artist, said: "Art in any form has the ability to heal, restore, uplift and drive the spirits of us humans in many ways. It is therapy. My aim is to express that in my work and what better way to do this than to share my work with communities of people emerging from a pandemic. I am glad that I have been given the opportunity to bring my art to a public space as part of Beyond Boundaries. For me, the motive of being an artist has always been to give back. Having the gift to create is not about oneself, but a greater purpose to bring joy to others."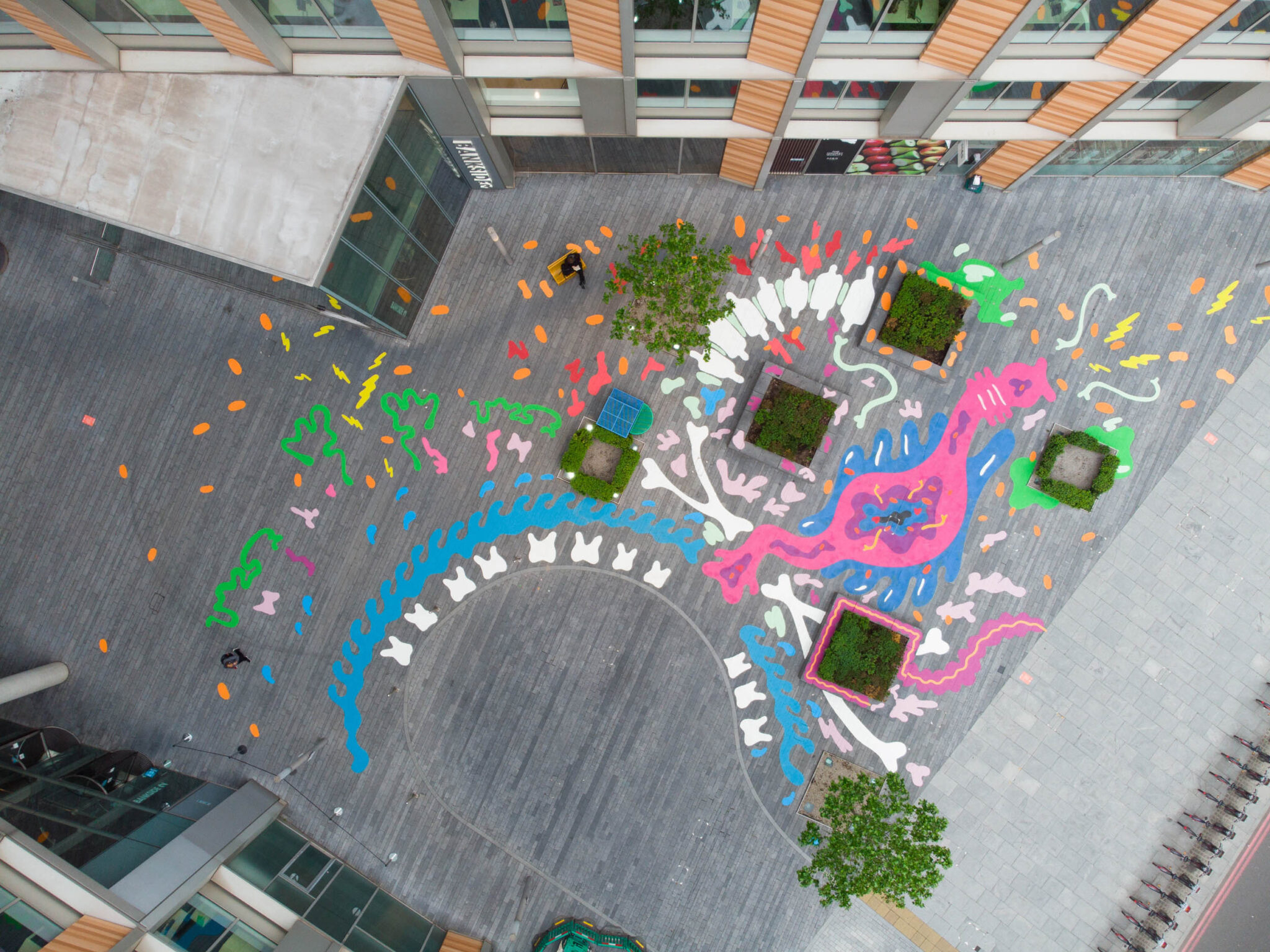 Tate Collective will also showcase all artists involved across their social media channels. Full details of the featured artworks can also be found on Tate's website: tate.org.uk/beyondboundaries @TateCollective.
Beyond Boundaries is curated by Péjú Oshin, Curator: Young People's Programme; with Rachel Noel, Convenor, Young People's Programmes, Daniel Bermingham, Assistant Curator: Young People's Programmes, Liat Rosenthal, Senior Creative Producer, Tate, Tara White, Tate Collective Producer, Alana Benton, Tate Collective Marketing Manager and Jessye Bloomfield, Creative Producer, Tate.