Dalston-based Oliver Zeffman is an impressive young conductor who has responded to the challenges of the pandemic with creativity and ambition. One of the most distinctive conductors of his generation, Zeffman last year commissioned an opera-film, Eight Songs from Isolation from eight leading composers, garnering international acclaim. More recently, he presented Live at the V&A, a film commissioned by Marquee TV and released by Platoon.
Live at the V&A was recorded in the V&A's newly refurbished Raphael Court, with the Academy of St Martin in the Fields (ASMF) and violinist Viktoria Mullova. Though no audience was present, it was recorded as live, giving viewers a sense of the performance rather than a heavily edited recording session – bringing a fresh, visually-focused approach designed to resonate with a global, digital audience.
Made in Shoreditch managed to get some time with Zeffman in his busy schedule, to find out more on how he came about his ideas in the past year, and what he looks forward to most post-lockdown….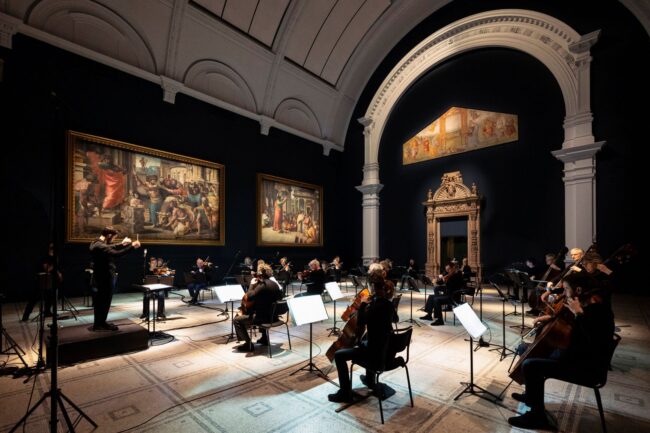 Made In Shoreditch: How are you doing?
Oliver Zeffman: I'm doing well, thank you, how are you doing?
MIS: Where have you been over the past year?
OZ: I haven't really been many places over the past year, certainly not outside of the UK, because obviously there hasn't been much international work or international holidays. I've been up to Cumbria a bit, and the Lake District, which has been very nice.
MIS: How has your work and your practice been affected?
OZ: Like everybody in the arts, almost everything I had was cancelled, and that's not good, but at the same time – without saying the pandemic was a good thing, it was a very bad thing – it has perhaps provided opportunities and different ways of exploring things, particularly in a digital way. Projects like Live at the V&A or Eight Songs from Isolation just wouldn't have been possible in normal times, logistically in terms of people's timelines and the appetite for those sorts of things, but also because the necessity of those kinds of things wouldn't have been there. So, I suppose it's been something of a double edged sword…one side much sharper than the other.
MIS: Tell us about Eight Songs from Isolation – how did the idea come about? What were the challenges in creating the work?
OZ: It came about in March when suddenly everything shut down and everything was cancelled. I was trying to think of something to do, frankly, that could be both feasible at a time when nobody could meet but also that would be artistically valid. There is only so long that you can watch people playing bits of Beethoven over Zoom. I mean it was nice for morale in the first couple of weeks, but it doesn't really do anything musically for the performers or for the audience. So, I was trying to think of something that would be interesting – and I thought that if I was doing something for the screen, then opera is just as much about visuals and drama and story as it is about the music…so I thought I should do something operatic. Then I began thinking about what opera I should do, which opera should I look at filming. But then, why not commission something? Because at this particular time, most composers had nothing to do because their work had been cancelled, so I thought it would be interesting to look at commissioning an opera from eight very different composers, eight very exciting people, and I guess that's how the idea came about really. I was lucky to get Apple to come on board, who were really excited by the project and gave us the iPhones to shoot on.
What were the challenges? I guess it was an entirely new way of creating something for everybody. Normally when I make a recording everyone is in the room together, whereas here we recorded with the orchestra together in one room, and the singers in their homes separately, and we would have to provide the orchestras backing tracks. For the Thomas Adès piece, every single person was in a different location. Or for the Chinese piece performed in Mandarin, Wu Wei was in Berlin, Wu Man was in San Diego, Shenyang was in Shanghai, I was in London.
MIS: And onto 'Live at the V&A' – what was it that most excited you about the collaboration?
OZ: I was very lucky to have some fantastic partners for this – Marquee TV, Platoon, the V&A, St Martin in the Fields, Viktoria Mullova, Stuart French filming…you know it's always very inspiring to work with people, whether artists or creatives or people culturally who make things happen, like Susannah Simons at Marquee TV or Katie Ferguson at Platoon who really get exciting ideas and are trying to pioneer and make new things. Because the point of the film, although it's more of a concert I guess than Eight Songs from Isolation, was very much about creating something that worked for the screen rather than just filming a performance. Because watching something on TV is a different experience to going to a live performance, and I think you've got to recognise that and create something for the medium you want the audience to experience it in rather than ignoring that. Although the recording session has a sense of live energy, the way Stuart filmed it and the way we intended it wasn't for you the audience to feel like you were in the hall but to make you experience it as a film. I think that comes across and I hope it comes across as something that is just as exciting visually as it is musically.
MIS: What are you doing next?
OZ: Lots of plans and ideas. Hopefully, exciting things coming soon. I'll let you know.
MIS: In lockdown, what have you most enjoyed doing around East London?
OZ: Well, during 'lockdown-lockdown' I was just in my flat…but afterwards, when things started to open up a little bit, I guess, eating. I like eating food, that's what I like doing. And going to the park – London Fields is nearby – taking my dog there. That was nice.
MIS: And what do you look forward to doing in the area once things fully open up?
OZ: Eating even more. Going to nice bars. That's what I like doing. And of course, going to see music and other events very soon.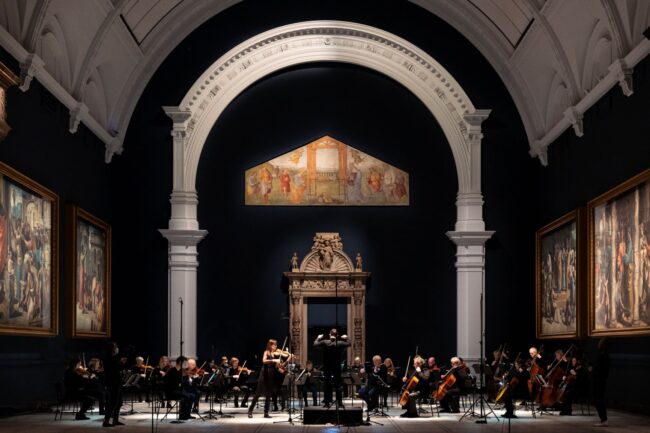 Live at the V&A is available on Marquee TV and Apple Music.