Exhibition Hub presents Van Gogh: The Immersive Experience, for a highly anticipated London run which opens on 29th July 2021. The exhibition, which has already brought joy to over 900,000 visitors worldwide, takes attendees on a journey through the Dutch post-impressionist artist's life, exploring Van Gogh's inspirations, struggles and contributions to the art world. 106 Commercial Street, a former horse and carriage repository centred around a triple-height atrium is the host venue set to turn into a live canvas this summer.
Van Gogh: The Immersive Experience opened in Naples, Italy in 2018 and has since launched successful runs in over a dozen cities throughout Europe and Asia including Brussels, Beijing, Barcelona, Milan and Tel Aviv. In the UK, two long-running experiences are currently showing in medieval churches in York and Leicester. In 2021 the exhibition entered the US market, making its debut in Atlanta in May, where the experience can currently be seen at the historical industrial complex, Pullman Yard. The experience has since opened in NYC at Skylight on Vesey, and in Miami in the Olympia Theatre. Forthcoming openings include Washington DC, Dallas, Philadelphia, Boston and Houston.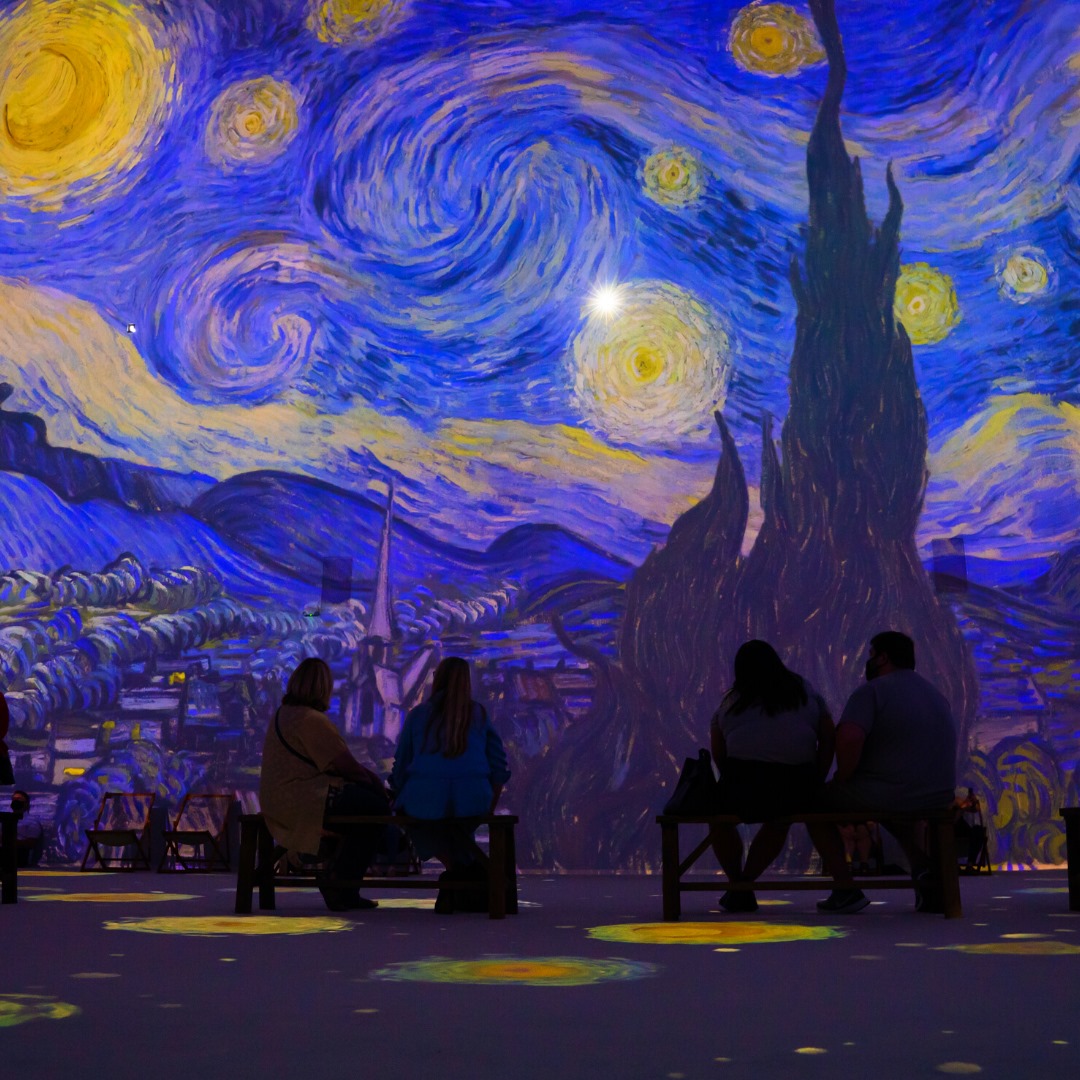 Using the latest and most innovative technology provided exclusively by Barco, the global leader in visual display technology, visitors will step into a virtual experience featuring more than 300 of Van Gogh's sketches, drawings, and paintings, dramatically displayed on over 15,000-square-feet of projection surface, more than 25 feet high.
The unique experience is made possible by state-of-the-art video mapping technology, coupled with projections on the floor to create the impression for the audience of being enveloped in the art. A drawing studio and additional galleries that explore the life, works and techniques of this incredible artist create a truly digital immersive experience that provides a complete look at the artist's life and work.
A didactic introduction is followed by a looped 35-minute 360-degree digital show which brings to life more than 300 of the great artist's works accompanied by a specially commissioned soundscape, composed by Thomas Sohet designed to imbue an additional layer of sensory experience as the artist's life, work and state of mind are explored. The exhibition features a one-of-a-kind Virtual Reality interactive that guides visitors through a ten-minute journey, reflecting on 'A Day in the Life of the Artist.' Walk alongside Van Gogh during this peaceful, visually rich journey to discover the inspiration behind eight of his iconic works including Vincent's Bedroom at Arles and Starry Night Over the Rhone River.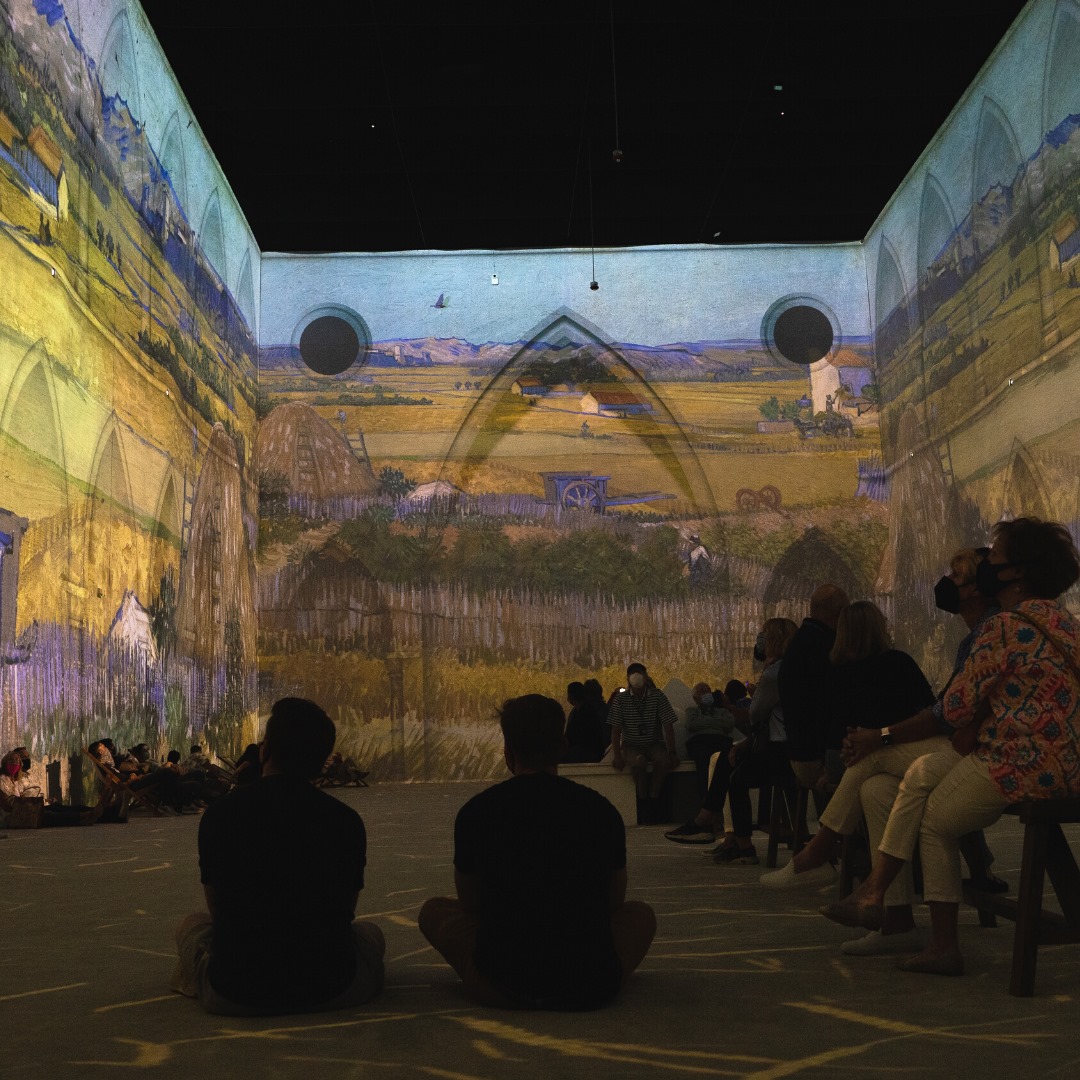 Hotel Café Royal Afternoon Tea Partnership
Marking the opening of Van Gogh: The Immersive Exhibition in London this summer, the iconic Hotel Café Royal are celebrating the brilliance of one of history's greatest artists with a highly creative response of their own – an Afternoon Tea which takes guests on a magical tasting journey through some of Van Gogh's most famous artworks. Alongside sumptuous sandwiches and light-as-air scones, delicacies include a Vase with Twelve Sunflowers (sunflower seed praline, salted caramel); The Starry Night (pink grapefruit compote, orange marmalade) and a pecan crunchy, coffee mousse and taro sponge Van Gogh Self-Portrait, served on its own easel. Please see the attached menu (listed items are subject to change).  
The Van Gogh Afternoon Tea will be served in the Oscar Wilde Lounge, the very room where Oscar Wilde fell in love with Lord Alfred Douglas, Aubrey Beardsley debated with Whistler, David Bowie retired Ziggy Stardust and Mick Jagger, the Beatles and Elizabeth Taylor danced the night away. Today, these dramatic settings are home to Hotel Café Royal's award-winning afternoon tea service, presented masterfully by their skilled and creative culinary team led by award-winning Executive Head Pastry chef Michael Kwan.