The sculpture launches a series of upcoming outdoor art commissions including a new work for September by German artist Klaus Weber 
A 14-metre sculpture from Berlin-based art collective Slavs and Tatars will be unveiled this week against the iconic backdrop of the Hayward Gallery. The new work, titled Samovar (2021), is the Hayward Gallery's inaugural Bagri Foundation Commission and invites visitors to the Southbank Centre to question the role of the popular drink tea in the UK and its ties – historical, traditional and cultural – to Central Asia.
Taking the form of an oversized inflatable water boiler, teapot and serving tray, the artwork is titled after the eponymous tea brewer commonly found across Central Asia. A Russian invention of the mid-18th century, today Samovars are used across Eastern Europe, the Middle East and some parts of Asia, in both domestic and communal settings.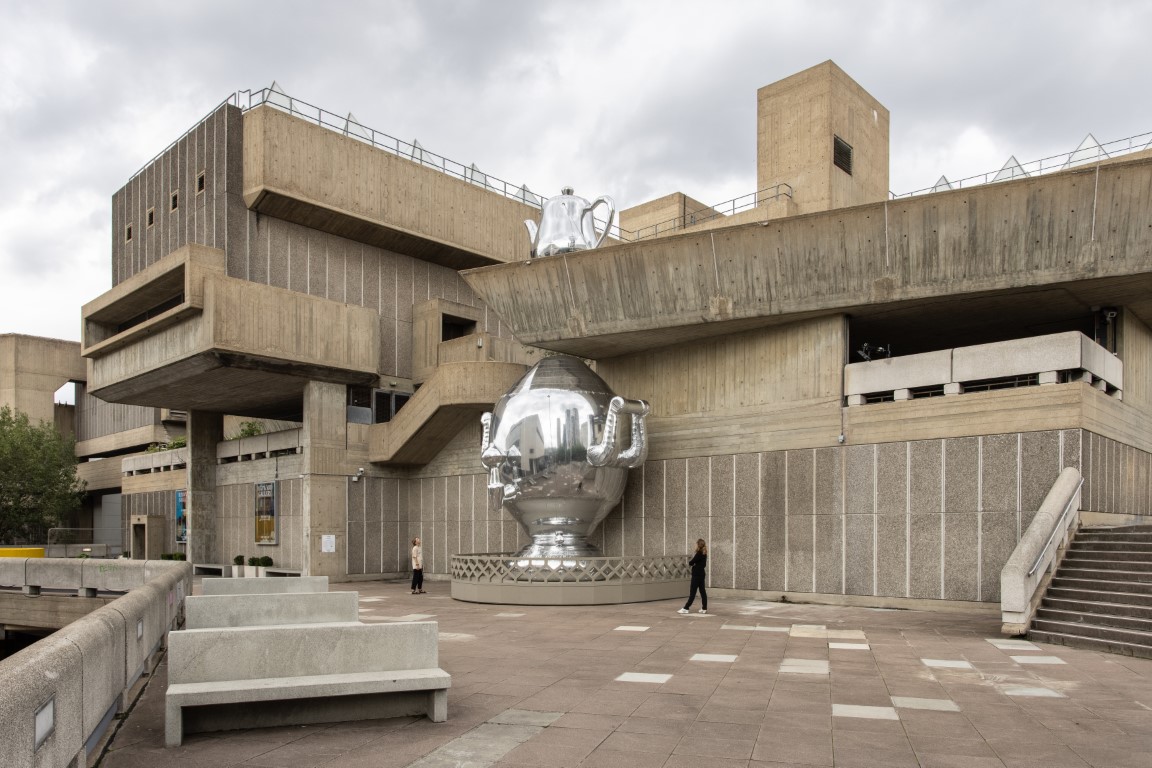 Drawing on their practice of addressing complex and overlooked cultural histories spanning Europe and Asia, Slavs and Tatars' large-scale installation uses the Samovar as an emblem to question the status of tea as a symbol of pride and nationalism in the United Kingdom. Through a mix of humour and wit, the commission encourages visitors to the Southbank Centre to consider the ways in which the history of tea and its popularity is intertwined with cross-cultural exchange and colonialism. The monumental work is also accompanied by a series of recordings from the artists as well as historians, chefs and poets who were invited to respond to the commission and its theme, including chef and journalist Caroline Eden, food historian Seren Charrington-Hollins and Anuar Duisenbinov, a poet from Kazakhstan.
Slavs and Tatars, the art collective behind Samovar, say: "Like the British, we're serious about tea – as well as self-deprecating humour – and can't imagine a better way to tease tea-baggers than a giant Samovar right outside the Hayward Gallery at the Southbank Centre, with its historical mission to present an international face to the public."
Feeding into a growing programme of outdoor commissions and installations across the Southbank Centre, Samovar inaugurates a series of artworks which will transform the area in front of the Hayward Gallery and nearby spaces into a lively sculpture park. To coincide with its launch, the Hayward Gallery is pleased to reveal details of its next outdoor installation which opens later in September with a major work from German artist Klaus Weber.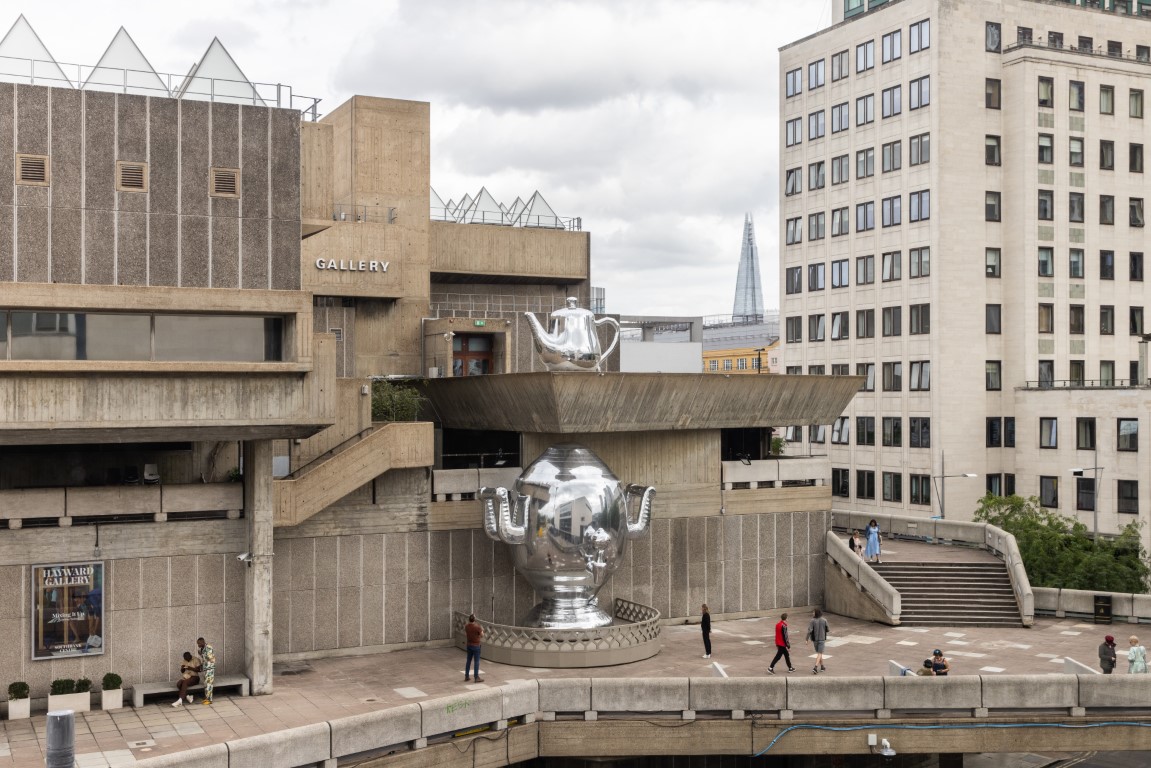 Generously supported by Art Fund, HENI and the Hayward Gallery Commissioning Committee, with additional support from the Rothschild Foundation, Klaus Weber's Thinking Fountains will feature two larger-than-life bronze figures that spout water and a waterfall cascading down from a concrete walkway. Partly inspired by the portal sculptures of Gothic cathedrals, Weber's Thinking Fountains aims to welcome both passersby and Hayward Gallery visitors with an allegory on the inspiration provided by encounters with art.
Together, these commissions will offer visitors to the Southbank Centre an unexpected and free opportunity to engage with new art and artistic talent. The Bagri Foundation Commission, following Samovar, will take place every summer until 2023 to provide artists from or inspired by Asia and its diaspora the opportunity to create a prominent public commission. Alongside these, an exciting series of installations funded by the Hayward Gallery Commissioning Committee will round out the seasonal programme, presenting new works by established contemporary artists.