Internationally renowned artists including Tracey Emin, Gavin Turk, David Bailey, Alex Echo and Hayden Kays will each create a personal artwork on a life-size 3D fabricated brain for curator Ben Moore's newest project 'Me, My Brain, and I'. The exhibition will be unveiled at Saatchi Art's The Other Art Fair this weekend, with all proceeds from the sale of the works going to Parkinson's UK.

Gavin Turk.
Parkinson's is the fastest growing neurological condition in the world and affects an estimated 10 million people globally. There is currently no cure and continued research into its causes and treatments is essential.
Parkinson's UK
Parkinson's UK, Europe's largest charitable funder of Parkinson's research, aims to increase understanding of how Parkinson's develops, uncover the best possible treatments and, ultimately find a cure.
This exhibition illuminates that our brains are unique, deeply complex and beautiful things, containing over one hundred billion neurons and enabling every facet of our daily functioning.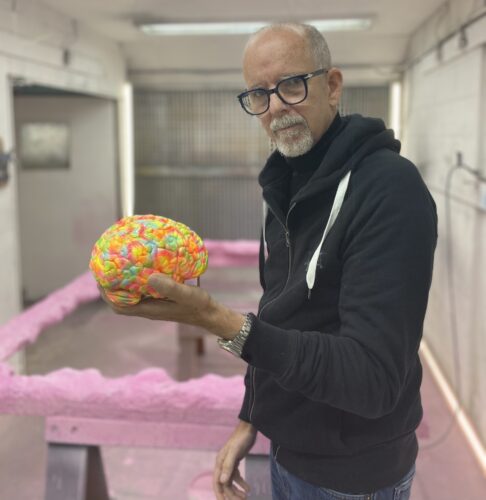 Alex Echo
International artist Alex Echo was diagnosed with Parkinson's two years ago, he hopes that his sculpture "Tremor" will present a truthful visual narrative of living with this condition.  He comments, "as your body and motor skills break down and fail with Parkinson's, every moment becomes an existential experience".
 Tracey Emin photo credit: Katie Heppell.
The Me, My Brain, and I exhibition will be on show at Saatchi Art's The Other Art Fair at The Old Truman Brewery 14-17 October. For more information and to book tickets visit www.theotherartfair.com