Saatchi Art's The Other Art Fair launches a new Global Virtual Edition from 8-29 November. The fully three-dimensional fair is free to enter and sees 200 artists presented across four digital rooms corresponding to the international editions of their physical venues at Barker Hangar (Los Angeles), Brooklyn Expo Center (Brooklyn), The Old Truman Brewery (London) and The Cutaway (Sydney).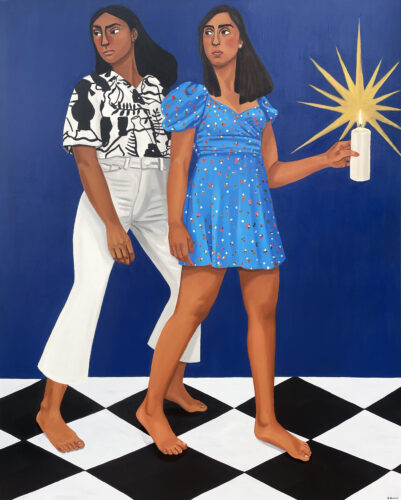 Firsts and lasts – Rocio Navarro
Celebrating its tenth anniversary this month, the leading artist-led fair has announced that it will host two annual Virtual Editions each November and May, giving art lovers the chance to fully explore the booths, connect directly with artists and be immersed in a new virtual fair world packed full of digital art, activities, and thousands of affordable artworks.
200 Artists, 3 Weeks, 1 Unmissable Fair. Free Entry
The virtual fair offers the unique opportunity to browse and purchase artworks from independent creators across the world, including artworks from twenty-nine countries. A live chat function will enable real-time chat with artists while their unique Discovery Room feature allows you to filter results to find exactly what you're looking for.
Featuring sculpture, works on paper, photography, and paintings from 200 hand-picked international artists chosen by Saatchi Art's Chief Curator Rebecca Wilson and The Other Art Fair Founder Ryan Stanier.
Wherever you take me, Fares Micue
As with their physical fairs, this free online edition presents an original and vibrant programme alongside Saatchi Art Curator Tours, 2021 New Futures Winners, a Bombay Sapphire Bar complete with a mural, digital installations by Aphra Shemza, plus The Other Art Fair 10th Anniversary Booth.
Register free at
theotherartfair.com
for full access from 8 November. Registration automatically enters visitors into a draw to win a $1000 art voucher to spend online at the fair.