You've caroused your way across London's clubbing scene, knocked back enough shots to rival a veteran bartender and now… the only house music you're interested in is the dulcet tones of your kitchen radio. Just kidding. Or not.
Whether you're worried that the 6am night-out finish simply isn't as appealing anymore – or worried about learning how to date again without a 3-day hangover: fear not.
With a little help from experienced-focused dating app Inner Circle, we've rounded up 3 great date spots. If you're ready to put down your phone and actually meet people in real life, this app is one to try.
All members are looking to date offline, so be bold and invite them to meet you at one of these spots. They're guaranteed to get you back out there…and back into bed at a reasonable time.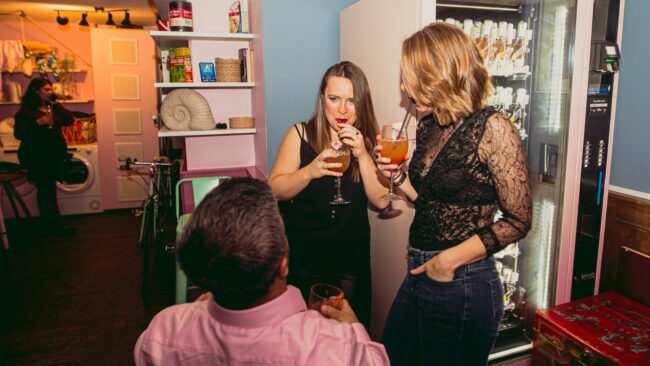 #1 Hijingo
Thought bingo was just for the oldies? Think again. 
Shoreditch's Hijingo brings back the beloved game of chance with a multi-sensory experience. Think: interactive live entertainment, show-stopping motion graphics and even the chance to win big prizes (hint: a European holiday for two may be on the cards). 
Stop by for pre-show drinks at the Lucky Cat Bar and stay on for the Neon Nights after party with a dance floor and live DJ. Looking for a date to take? Check out the rich profiles from members on Inner Circle. Whether you're a party-goer or a board-gamer, detailed filters help you to find someone exactly on your wavelength – or to take a chance on someone different. Every profile is screened by a team of real people, so you'll never find scammers or spammers.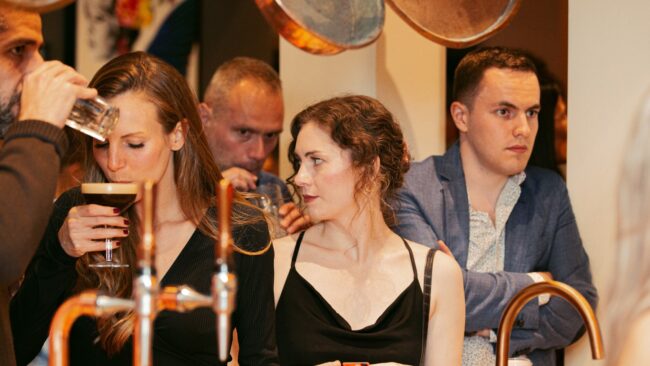 #2 Nightjar
The key to feeling younger? Stepping way back in time.
We guarantee you or your date won't be quite as old as this 1920s-inspired speakeasy bar. Nestled underground amidst the overcrowded bars of Shoreditch, Nightjar is a hidden gem for the intimate, candle-lit, get-to-know-you date. 
Looking for that special someone to sip cocktails with? Use the Discover tab on Inner Circle to add Nightjar to your Favourites list. You'll let more of your personality show on your profile – and find fellow jazz aficionados who love going there too. You can match with members based on the venues you both love, then just arrange to meet next time you're passing through. It doesn't get much cooler than this.
#3 Inamo
Proud of your refined palate… and your Playstation score? We know just the place.
Combining Pan-Asian cuisine with groundbreaking technology, Inamo is the perfect spot for the nervous dater. With interactive projections on your table of retro games, a live chef-cam feed and even sketching functions, this restaurant takes care of the conversation starter – and the main course.
Want to keep the conversation going? Check out the Games Room for consoles, karaoke and arcade games galore.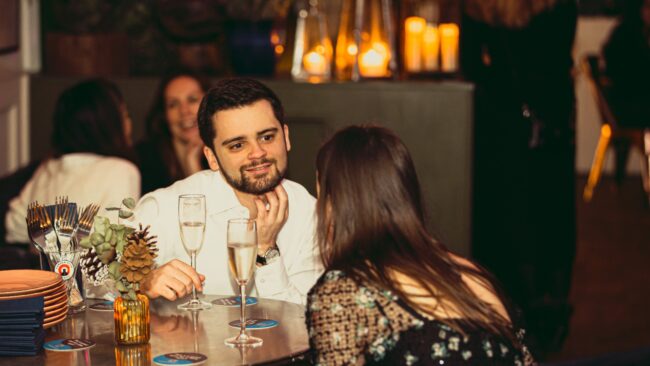 If you're hoping to find another cultured foodie, check out the Trips section of Inner Circle. Add your favourite cities and upcoming travels to your profile and check out other members heading there too. It's the perfect way to break the ice. And whether it's São Paulo or Singapore, we guarantee fellow sushi lovers are all around.
Ready to get back out there? Planning a date is nothing without someone to share it with, so register with Inner Circle now.