In honor of the Queen's Platinum Jubilee, Carnaby Street has implemented new custom arches at the beginning and end of the street. The celebration is set to commemorate the 70 years that Queen Elizabeth II has been on the throne. As the longest reigning monarch that the United Kingdom has seen, the event is garnering mass attention both nationally and internationally.
Seventy-year anniversaries are commemorated by the metal, platinum. Derived from both the color and composition of the metal, platinum symbolizes strength, rarity, purity and true love.
Typically, Carnaby Street is headed with a simple black and white with "Welcome to Carnaby Street" written across. In contrast, the new Carnaby Street crown arches glisten in a corresponding platinum silver color and boldly showcases the text "Carnaby Jubilee 2022." The crown sits at the intersection of Carnaby Street and Ganton Street and marks both the beginning and end of the famous shopping street.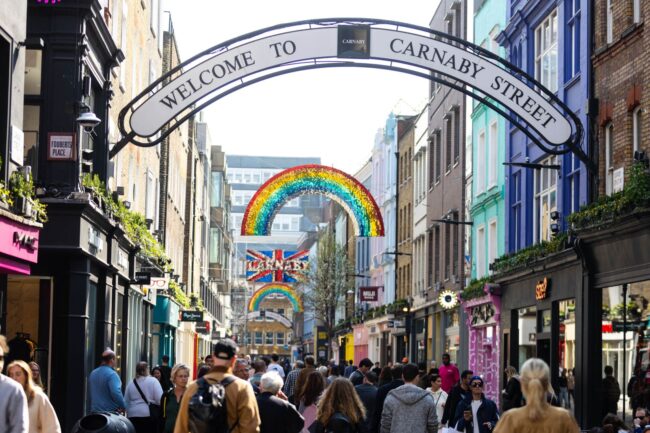 In between the new platinum arches is a shimmering Union Jack flag. The 3-D installation is adorned with 30,000 red, white and blue shimmer discs that illuminates the flag above shopper's heads.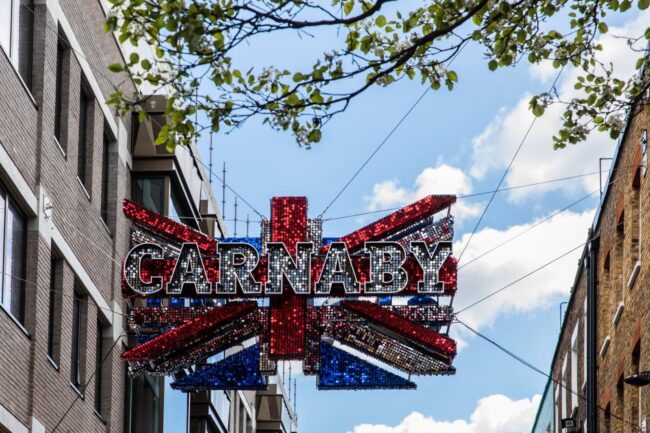 The Queen's Jubilee celebration is set to take place on the weekend of 28, May. The UK will have a bank holiday starting on Thursday, 2 June. The weekend is set to be filled with local celebrations and street parties throughout the city of London and in the UK.
In addition, Carnaby Street is holding celebratory events starting Thursday, 2 June. The on-street activities will consist of complimentary ice lollies, glitter makeovers and live performances. In addition, various stores along Carnaby street and throughout the country are set to have promotions in celebration of the Platinum Jubilee
The new platinum arches were installed on 29 April and will remain up until 31 July for shoppers to come and see.