Zealous X is unleashing creativity at Rich Mix, Shoreditch over an exceptional 10-day festival from the 7th to the 17th of January 2016. By buying a ticket you are directly supporting creators. 51% of all Zealous X tickets go directly to the 100+ creatives showcased during the festival.
Tell us about your business: What do you do? What did inspire you to start?
It's really complex to find the right creative talent for your projects/exhibits/festivals …yet it's equally hard for creatives to find opportunities without making a substantial effort researching the market place…that's where Zealous comes in.
We streamline the sourcing of creative talent through open calls and bring opportunities straight to the artists based on their portfolios.
Creativity is all around you all the time, it inspires, allows you to better understand and challenge the world you live in, and gives value to the life you lead. You're consuming some right now by reading this article, perhaps even listening to music, yet you don't realise quite how hard it is to produce it until you try yourself. I discovered that first hand whilst taking stills photography on film sets and seeing 40 dedicated people working together to make short films which will probably make no money at all.
Since my background allows me to streamline and organize information (graduated in A.I. worked in finance and IT contracting… plus I'm Swiss, we have a national obsession for organisation). I'm making use of my skills to best to support what I love and help creatives push their boundaries and make more of it (its selfish really ;)).
What is unique about what you do?
How many times has someone asked you if you know a DJ / Illustrator / Morris Dancer (ok I'll admit less often for the Morris Dancers, but where there's a skill, there's a need!).
When searching for creative talent you tend to depend on your network, which restricts your choice of talent. This means you're not getting the best person for your needs.
Zealous gives creative talent a home; and allows the world to come to one location www.zealous.co to source it. Think of Google/LinkedIn for creativity talent.
What were the biggest obstacles launching the start-up and how did you overcome them?
Ha, that's going to be a long list! At the very moment it's finding that brilliant sales person. The people make the company, and when you're a small company, hiring the right ones is pivotal to your survival.
Challenges are constant and ever changing; but no matter how unsurmountable the challenge feels at the time; when I look back they will always feel like details, and there's always a bigger one ahead, it's a healthy sign of progress.
Here's are universal truths that have helped me so far:
Be agile – instead of planning the exact route to where you are going mark a spot of where you want to be, take what you need with you and start walking.
Be transparent – the truth no matter what – with users, employees, stakeholders and yourself. Sometimes it's uncomfortable, but you'll earn respect and often support.
Be stubborn – it's not as easy as the media make it out to be, be ready to stand ground and have blind belief in your idea; because if you don't, no one else will.
Delegate – As an entrepreneur it's easy to want to do everything, let it go, if someone else can do it better, let them do it.
Flip failures – the best skiers I know are the ones who consistently had spectacular falls. It's a sign that you are pushing yourself to the limit. Accept that failure is a part of pushing boundaries, learn from it and make sure you don't make that same mistake twice.
Cash flow is King – it's crass, but business is just like Monopoly, when the money runs out, it's game over. The cash flow informs almost all my decisions.
Tell us about Zealous X festival?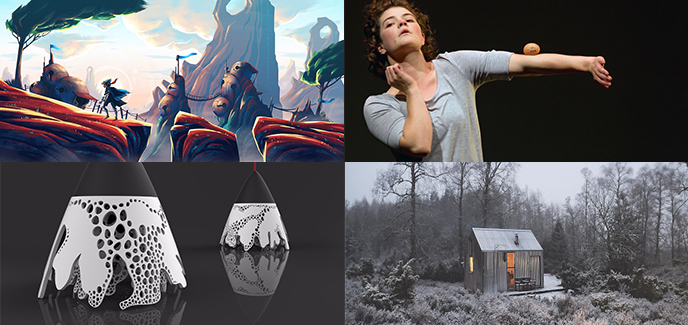 Zealous X is all about unleashing creativity, it provides the public with a journey of discovery of the UK's most talented creatives; and provides industries depending on creativity a space to come together reflect on their achievements, get inspired, be challenged and help build the future of the creative economy, which makes the UK £8.8 million an hour and is pivotal to the growth of the UK.
The festival happens over 10 days at Rich Mix in Shoreditch from the 7th to the 17th and will showcase 105 creative projects, including 15 gigs and 15 performances; as well as host 30 talks with more than 60 speakers and workshops so that participants can get their hands dirty creating!
It's going to be epic!
Why did you choose Shoreditch/East London to launch your start-up?
Just like Zealous, Shoreditch is at a crossroads between technology, creativity and finance. The energy produced by these industries coming together has led to an incredible melting pot of ideas which is supported by great café's and galleries, extravagant fashion, spaces that inspire and a vibrant eco-system providing support to fledgling companies.
Although we don't run the business from Shoreditch, a little pricey for a bootstrapped startup, we'll always aim to be close!
What does the future has in store for your company?
Zealous is becoming an ecosystem that supports creative's offline as well as online.
For  www.zealous.co we won't stop until you're able to find the perfect creative talent from any discipline, anywhere in the world for any project. My test has always been "Could Secret Cinema source all the creative talent they need for one of their projects on Zealous?" I want that answer to be yes.
We have big ideas for the festival (why one? why only London?) and we're in the process of opening a co-working space for creative freelancers; so watch this space!
Social links:
Twitter: @zealous_co, @guyarmitage
Facebook: zealousco