Allure Me Beauty is an online service marketplace which allows customers to easily book a beauty appointment at the click of a button. Customers have access to over 2,000 stylists UK wide and can search for a beauty appointment in their location, whether that is a mobile appointment or visiting a salon or home salon. Allure Me Beauty is revolutionising the beauty industry as freelancers are able to grow their current client base with the help of our platform and on the other hand, customers have easy access to book appointments any time, anywhere.
G: What problem did you set out to fix in this world?
J&N: Allure Me Beauty is changing the way that people book beauty appointments as customers are finding it harder than ever to fit appointments into their busy schedule. Our platform allows them to book an appointment anywhere, whether that is the office, hotel room or the comfort of their own home. All salons have limited opening and closing times whereas we give customers that easy access to book, no matter what their schedule. We are also catering for the clients that are visiting or even moving to a new city and they are looking for a trusted stylist.
The beauty industry is changing and the way that customers previously found stylists is through word of mouth and trial and error. Now, we have created a system where customers can view reviews, see previous work and compare artists all in one place. We are giving customers unlimited resources so that it so much easier to book those new appointments, or even those returning maintenance appointments.
G: How did you find your 'Why"? 
J&N: We both knew from the beginning that we wanted to work for ourselves and start a business. We always had that entrepreneurial trait between us that we wanted to pursue. After our education, we both decided that we wanted to travel and see more of the world, this was a planned trip for 3 months that turned into 3 years. We moved to Melbourne and the business idea came from Nicola's personal experience of being a makeup artist in the industry as she found it difficult to build up a client base without knowing anybody and having to start from scratch. Together we came up with the concept of Allure Me Beauty as travelling opened our eyes to the opportunities in the world and we knew that with our idea we could change the beauty industry. Rather than the problem coming from the view of the customer, the problem came from the knowledge of a beauty professional already in the industry.
G: How did you converted your passion into a business?
J&N: Once we knew that we were making the move back to the UK, we decided to put together a plan so that the business was set up for our return. We travelled for another 4 months where we developed the website, reached out to professionals in the industry, and conducted all of our market research. The more that we worked on the business we realised that there was a huge niche in the market with our idea. We launched the business whilst we were in Sri Lanka and in a week's time we had over 200 sign ups to the site, and within a month we had over 1,000. This really proved that our idea was feasible and that this was something that the industry needed. The beauty industry is never ending and always changing which means that there are always new ideas for our business to grow.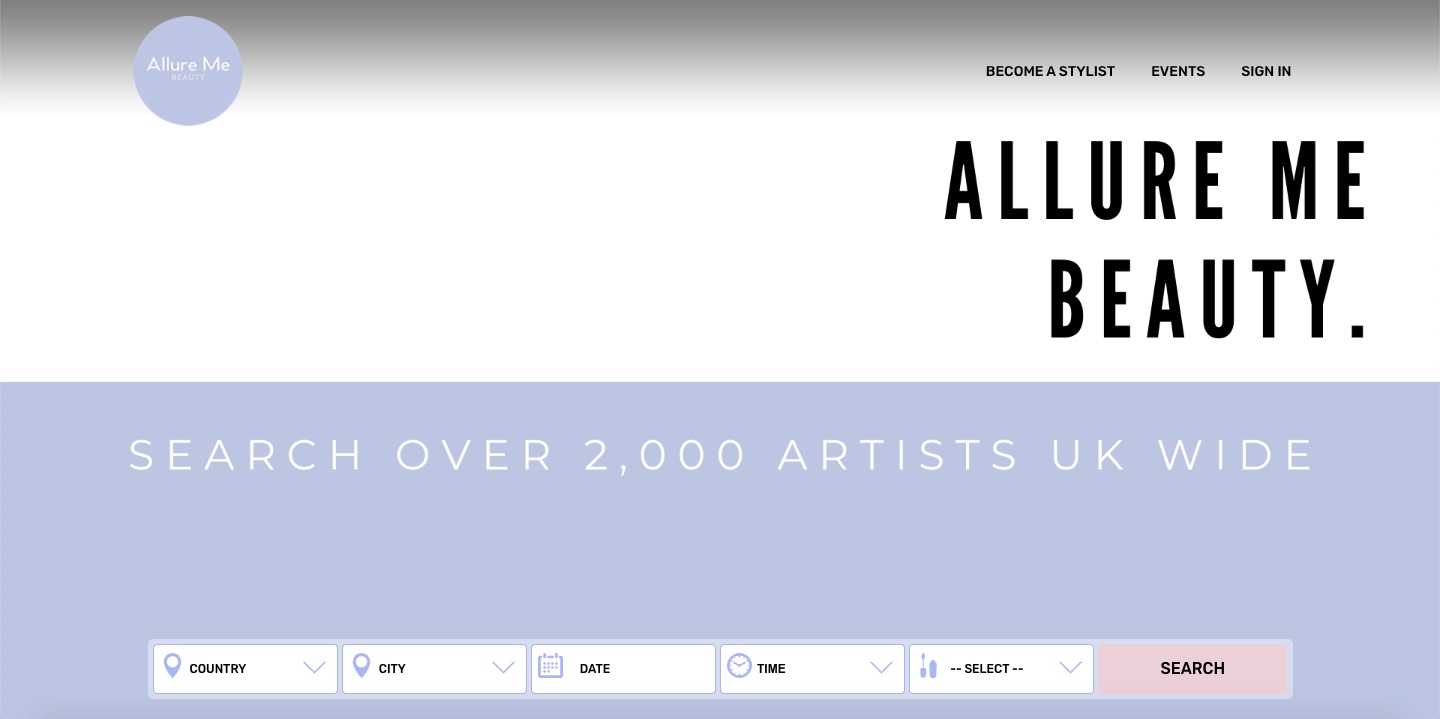 G: How long did it take until you start making a living out of it?
J&N: We understood that it is tough to start a business from scratch, so we were prepared for this. Whilst the website wasn't generating a lot of income, we started organising events to gain money as well as gaining attraction and brand awareness for ourselves. We found another niche in the market regarding beauty services at events and we provide a Beauty Bar which is booked for many types of events including Ladies Days, Corporate Events, Influencer Parties, Backstage Fashion Shows and other events. We have also been creating Allure Me Beauty Masterclasses with huge artists in the industry. We realised that there were multiple ways of us generating income and we made sure that we had different revenue streams.
G: What were the biggest obstacles launching the company and how did you overcome them?
J&N: We believe that the biggest obstacle for us was actually making the decision to start the business. We had the idea for a while however making that jump from idea to product was the biggest. We always told ourselves from the beginning that there was no plan B and we would do everything to make it work, which we have. You always have to see the bigger picture and end result to get you over those big hurdles.
G: Why do you think people fell in love with your company?
J&N: There was a huge gap in the market for our platform as customers want that easy to use system where they can find everything in one place. Nobody wants to waste their time and search endlessly through Google and Social Media for an appointment when they can search our platform and find hundreds of stylists in their city. On our platform, there is a stylist for every client no matter the budget as the stylist is in control of their own prices. We are the one stop shop for beauty whether that is for a bride or a weekly appointment.
G: How do you promote your platform and grow your audience?
J&N: As a start-up, we have managed to grow a UK wide platform from the ground up and we want to inspire other young entrepreneurs with our story. We started off using solely social media to promote our brand, which we still use heavily now. Once we started working and partnering with bigger brands and companies, we got more recognised and established. This has also help us to gain VIP and celebrity clients such as Laura Whitmore, Lucy Mecklenburgh, Ashley Roberts and many more.
G: What 3 pieces of advice would you give to the people who want to create something, but not sure how or where to start ?
J&N: If you have an idea and believe that it is worthwhile then go for it. There is no better time than now and there is never going to be a perfect moment, so put your idea into action and learn along the way.
We have had some of our biggest outcomes from moments that we thought where failures. Failure is never a negative but a learning curve and you will become so much better from the outcome.
Always see the end result, it's hard when you feel like you aren't getting anywhere however you have to take those small steps to achieve the big ones.
G: Have you had any mentors or role models that have influenced you?
J&N: We are both influenced by very different role models and we are both always learning from people in the industry. Jason's role models are successful and inspiring people such as Tony Robbins and Grant Cardone. We both listen to podcasts and read books on successful businesses, Nicola focusing on the beauty industry.
G: Who/what are your favourite CEOs/Businesses in Shoreditch or East London?
J&N: Our favourite business in the East London area would be Seedrs and Secret Escapes. We see both of these businesses as similar business models to our own in the fact that they are providing an easily accessible platform to clients and changing their industry.
G: Where do you see your company in a few years' time and what are your thoughts on the future of your industry how is it changing?
J&N: In the future, Allure Me Beauty will be a global company. We are already the UK's largest beauty booking platform for independent freelancers, however our goal is to be the number 1 name in the beauty industry. The ideas for Allure Me Beauty are endless and there is so much room for expansion from us in the future.
The beauty industry is constantly changing and this change is good for us as there are always new developments and ideas. As technology changes, our business will need to grow with this to keep up with the trends but our platform can always be adapted for new features.