I've always been enchanted by photographs – there's something almost magical about capturing a moment in time, knowing that an image lives on, carrying with it so many stories, so many memories. I collect old photographs – mainly from the Victorian era. It's fascinating to hold a piece of history in your hand, looking at the lives and landscapes of things almost-forgotten. It's not just vintage photography that excites me, though, I am inspired by photography that captures the vivid truth of our world. Photos that you can look at of unfamiliar countries or unknown people, yet still feel strangely connected.
When I came across the photographer Liam Wong – who also works in film and game design – I was astounded. His photographs seem both other-worldly and yet personal, at the same time. There is a sense of glimpsing something deeply truthful, of preserving a piece of our world and then magnifying it's beauty. Wong certainly has a style of his own, and his work is, as a result, visually stunning. Having spent so much time on his creative endeavours over the years, and having released a book of his photography called TO:KY:OO, I wanted to learn more about Wong's life, work and attitudes to photography. I invited him to be interviewed, which he kindly accepted. Here is the result of our exchange…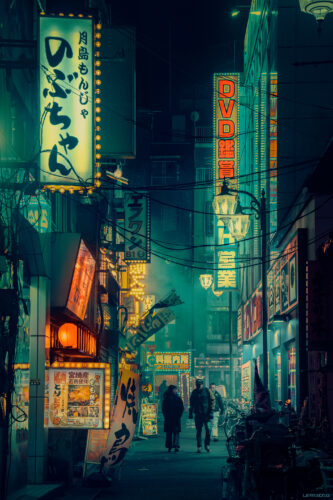 F: Thanks for taking the time out to talk about your work. I wanted to start by asking you – what initially drew you to the art of photography? Where did your love of photography begin?
L: My love for photography came from travel – a trip to Tokyo in 2014 made me interested in street photography and I returned a year later at the end of 2015 with my first DSLR.
F: When you were at school, did you excel at art and the creative subjects?
L: I would say it was the only thing I was good at. I think with most artists, we find ourselves in that position. I really struggled academically and could never focus on studying so my exams were mostly scraping by with passes or failing entirely – art had always been my place of comfort and one where I never felt like a failure.
F: What did your family and friends think when they realised you wanted to embark on a creative career like this?
L: The phrase "art is a three letter word for disappointing your parents" sticks in my mind. There's always going to be friends and family suggesting a safer more viable route. It took me a long time to figure out what I wanted to do and when I made the decision they were happy that I had found a path for myself and my future. Before that I hardly left the house and would spend most of my time at my computer. The decision to pursue art professionally motivated me for the first time in my life.
F: You have had a diverse and very creative career so far (including directing and game designing) and I wondered, do you enjoy each area you have worked in equally, or is there one particular field you enjoy more than others?
L: When I think back to when I had no clear career path – video games gave me a way to escape from the things on my mind. Having worked on them for many years – I love working with people to create worlds, interactive experiences and ultimately something fun. It's something you rarely get from a movie or a still image.
I find myself moving towards film. I love photography but cinematography has been a joy to learn and I see that in my future.
F: Can you tell me about your book, TO:KY:OO… What inspired you to put together this particular project, and why did Tokyo feel like the place you wanted to focus on?
L: Tokyo changed my life. The book is somewhat of a love letter to the city with the hope that the city inspires people the way it did for me.
Whilst working full time in video games I would save all my vacation days to spend in Tokyo. Each night I would go out and capture the city.
It all started with an image I posted on my personal Facebook and friends encouraged me to keep going and eventually I made an Instagram.
F: Was it hard to select which photos to use and which to discard for the final book?
L: Absolutely. I had many photographs to choose from and had no experience with publishing so I was thankful to work with talented editors and designers to make it work. Print has such a finality to it that I have never encountered before since I spend so much time consuming and creating content on a small screen so it was really an eye opening experience.
F: Can you imagine doing another book like TO:KY:OO again?
L: I have some ideas for future projects. The success of TO:KY:OO was unexpected. What started as a rough idea when I was stood in a Waterstones in London turned into a physical book, designed, funded and published less than a year later. It was a lot of work to create and I want the next book to be just as well considered, so for now it is back to wandering with my camera. I feel inspired and keen to capture more moments in new places.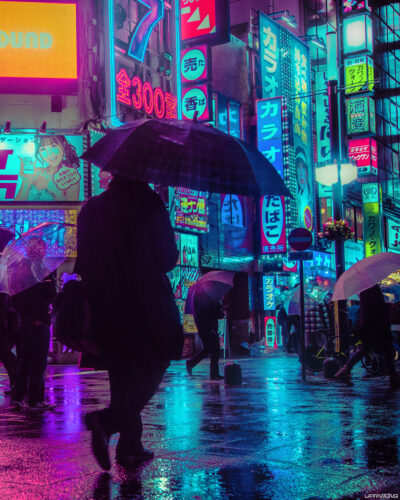 F: What would you say makes a good photograph?
L: As someone who plays a lot with color, I think at minimum a good photograph should have compelling content and a strong composition.
F: Would you say you are a perfectionist?
L: I would say so. However publishing a book made me reflect on images I captured versus images I shared – I feel a little more experimental and that I can relax a little. Since the start of the year I put out more imagery almost daily on my Twitter.
F: What are you working on at the moment, and can you tell us about it?
L: I'm working on my first step into filmmaking and also on my first game as an independent. A lot of things I learned through photography have helped me get to this point so I'm really excited about where it goes. I just want to make stuff.
F: You do a lot of freelance work and collaborate with very high-profile companies. Would you say you are someone who thrives under pressure when trying to deliver high quality work or can the high expectations of others sometimes get in the way and create stress for you?
L: I think in general, creatives put so much pressure on themselves with everything, myself included. I work best when I am given a creative brief with clear deliverables and within my own creative control – those are the collaborations I have the most fun with.
F: Can you tell us – who are some of your own favourite photographers? Have any of them inspired your own work?
L: Absolutely. I always try to share my inspirations whenever asked.
Fan Ho – my absolute favourite photographer. His compositions are stellar but also his use of black and white whilst shaping light.
Masataka Nakano – a Japanese photographer known for capturing empty Tokyo on film. A huge amount of dedication to his work. I met him last week and I was really nervous but he said he liked my work and I had to hold everything back and just nod and say thanks.
Saul Leiter – I got into his work in the past year and his way of capturing mood has been inspirational to many photographers including myself.
F: When you are not working on a project, what are some of the ways you relax and unwind?
L: Outside of playing video games and taking photographs – I love to cook. I have a habit of turning my hobbies into professions so hopefully that one will remain a hobby. Since getting into photography I find it really hard to switch off if I'm walking around a city – my eyes are always looking for interesting shots.
F: Finally, can you tell readers where they can find out more about you and your work?
L: You'll find me on Twitter, Instagram and my website: liamwong.com for links to my book and stores
F: Thanks for your time, Liam, and good luck with your future projects. 
All photographs in this feature are by Liam Wong.