Andrew Gregory had to take a difficult decision to get his leg amputated about a year ago, but after some intense training, just a year on he was awarded the title of European Parapole Champion, qualified for Worlds, and went on to smash this competition with the title of World Parapole Champion and a new world record score.  All this whilst keeping his full time day job as a hairdresser!
Andrew is performing at the Gloria Digital Pride Festival this Saturday and Sunday, 27th and 28th June. Get your tickets here.
xxx
G: How would you describe yourself?
A: I'm Andrew Gregory, 48 years old, living in Shoreditch, but originally from Yorkshire. My main job is as a freelance hairdresser, I'm lucky enough to work with some incredible clients. I now also teach pole at London Dance Academy (currently online).
G: What did attract you to the competitive pole dancing world, how did it get started?
A: I came to pole by accident,I had come across anti gravity yoga and wanted to give it a go. It was taught across the road from where I live. I gave it a go and loved it, but the studio also taught pole, eventually I plucked up the courage to try it and was instantly addicted. I had both legs when I started, although my left had been very badly damaged in a motorcycle accident many years earlier.
G: When did you realise that you will be doing this for the rest of your life?
A: I think I knew that first class that this was for me!!! But when I started out, I knew nothing about competitive pole. It's only as a progressed through the levels that I discovered there was way more to this than just fitness!
G: What were the toughest and the best moments and how did you get through them? 
A: The early days were tough partly because of the pain I was suffering with my leg, and partly because of the reduced functionality of my left foot. The teachers and students are all very supportive and definitely helped me when I was struggling with frustration when I couldn't achieve a move.
I was realising my leg was deteriorating, causing more problems in both my work and pole life. Something had to be done, a meeting with surgical team confirmed what I had suspected for a while. There really wasn't anything more they could do to improve things. I made the decision to amputate my lower left leg, knowing it would improve everything going forward. That was 2 years ago, I have never looked back!!!
G: You are the "European Parapole Champion", I suppose it wasn't an easy journey, so what does it take to become one?  
A: So I'm actually Parapole World Champion as well, after taking gold at the IPSF world championships in October in Montreal, where I was also awarded male athlete of the year.
Pole sport is a very different discipline to pole dance, routines are built around compulsory components, which must be performed perfectly to gain points, as well as bonus's  for combinations of moves and difficulty of the routine. Building and perfecting a routine takes a lot of time and effort, timings and angles also have to be perfectly fitted to the chosen music.
G: You also competed against able-bodied competitors in "Pole Theatre UK" competition earlier this year and you won, how did it feel? 
A: My most recent win was the Pole Theatre UK competition, where I won the drama category. This was an artistic presentation against regular polers, I think I was the first differently abled poler to qualify and compete.
It was so amazing to make it through the selection.
I decided to tell the story of waking up after my amputation,through to receiving my first prosthetic. It was incredibly personal for me,portraying the ups and downs of the journey. To win was overwhelming. The reaction from the audience was incredible.
G: Your story is more than inspiring, but what do you want to tell your audience through your art?  
A: For me, it's really about showing people what is possible with a disability. I'm not suggesting that pole is suitable for everyone, but it's about finding that passion and the people who can help you achieve it. With the right support, anything is possible!!
I hope I do inspire people.
G: What do you say to people who like to complain about life? 
A: We all complain about elements of life, work, love, money.
But we need to look at what we are,an incredible machine,capable of so much. Learn to love and use your body,it needs to move and exercise,as much as it needs to eat and sleep.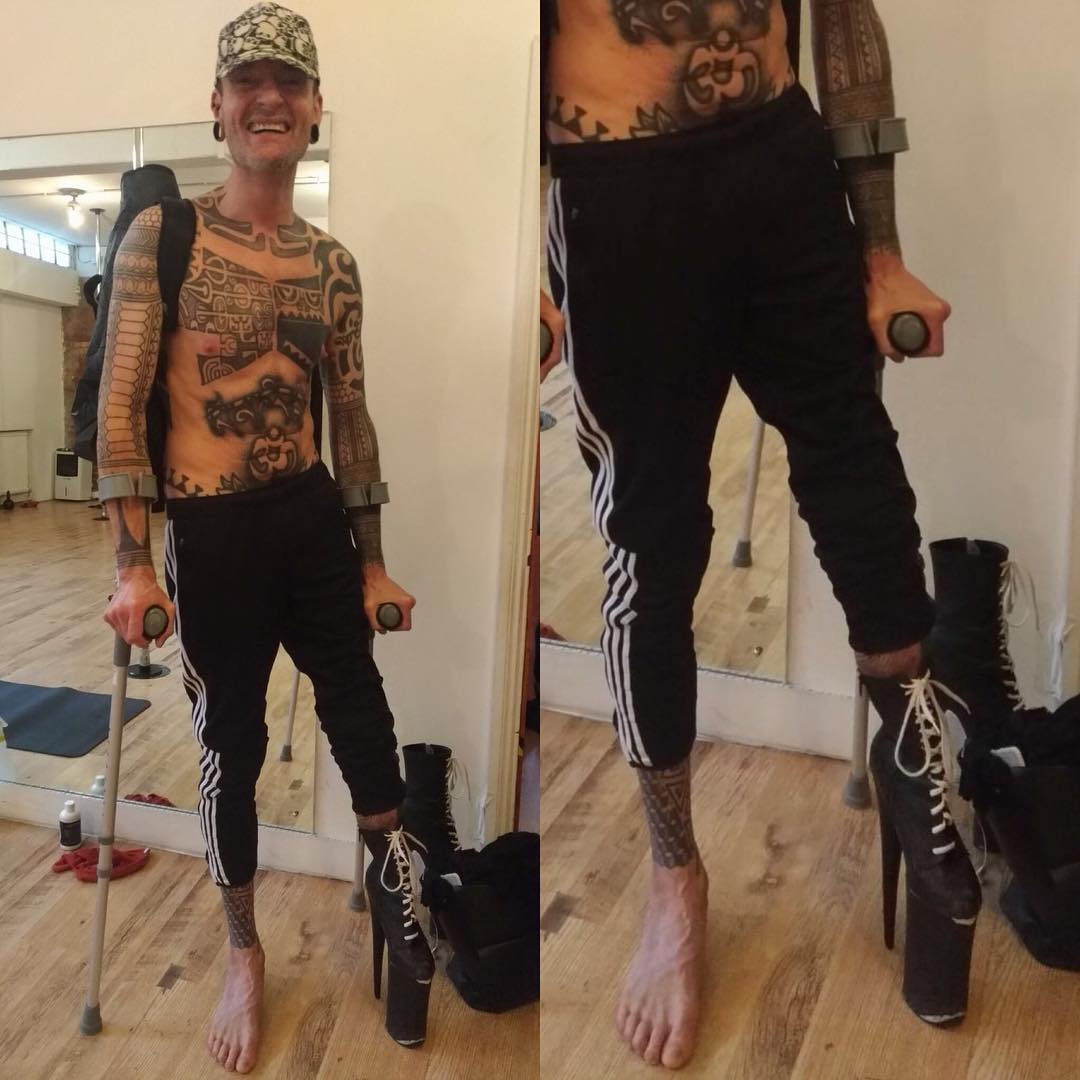 G: Do you think pole is a bit of an escape from reality, do you think everyone should try it at least once and why? 
A: Pole is definitely an escape from the outside world. You have to be in the moment, focusing on where your going next, a sequence needs planning, mapping out. Loose your concentration and you risk injury.
It's definitely a form of fitness anybody can try, any shape, size, age, ability. It's an inclusive community.
There is a style of pole for everyone. I love tricks, the scarier stuff, but for some people it's the dance side, the flow or spins. There is so many sides to pole. A warning, it's addictive!!!!
G: Pole seems like a very playful experience, what's the creative process behind the acts? 
A: Everyone has they're own style, from sexy to contemporary. Acts usually tell a story, but sometimes it's just about an experience.
The process for me starts with a feeling I want to portray, I then find the music I want to put with it. I then play with combinations of moves and start to piece them together like a jigsaw, changing the flow, the speed, the complexity to fit the music. It's usually changing constantly till a week or two  before it's performed, then the last weeks are run throughs, over and over. This is when the performance side of it develops, as the sequences become more natural.
G: How do you reinvent your routines not to get bored of them?
A: Personally,once a routine is performed, I don't repeat it. It was a period in time,and I move on to do something else. Music really helps, I have a list of tracks that I want to work with, they're all so different, so cast their  own character into a piece. Social media is amazing for learning new tricks, gaining inspiration.
G: What does inspire you and where do you look for inspiration? 
A: I'm am inspired by people who don't accept the hand they've been dealt. People who do extraordinary things, when the world tells them it's not possible. People who struggle, but carry on trying anyway. How can anyone not be inspired by these people?
G: What are you future plans?
A: My next performance is for the Gloria Digital Pride Festival June 27/28. It's so sad Pride won't have a physical event this year, so an online one is the next best thing. It's a weekend of performances, DJs, classes,showcasing some amazing talent.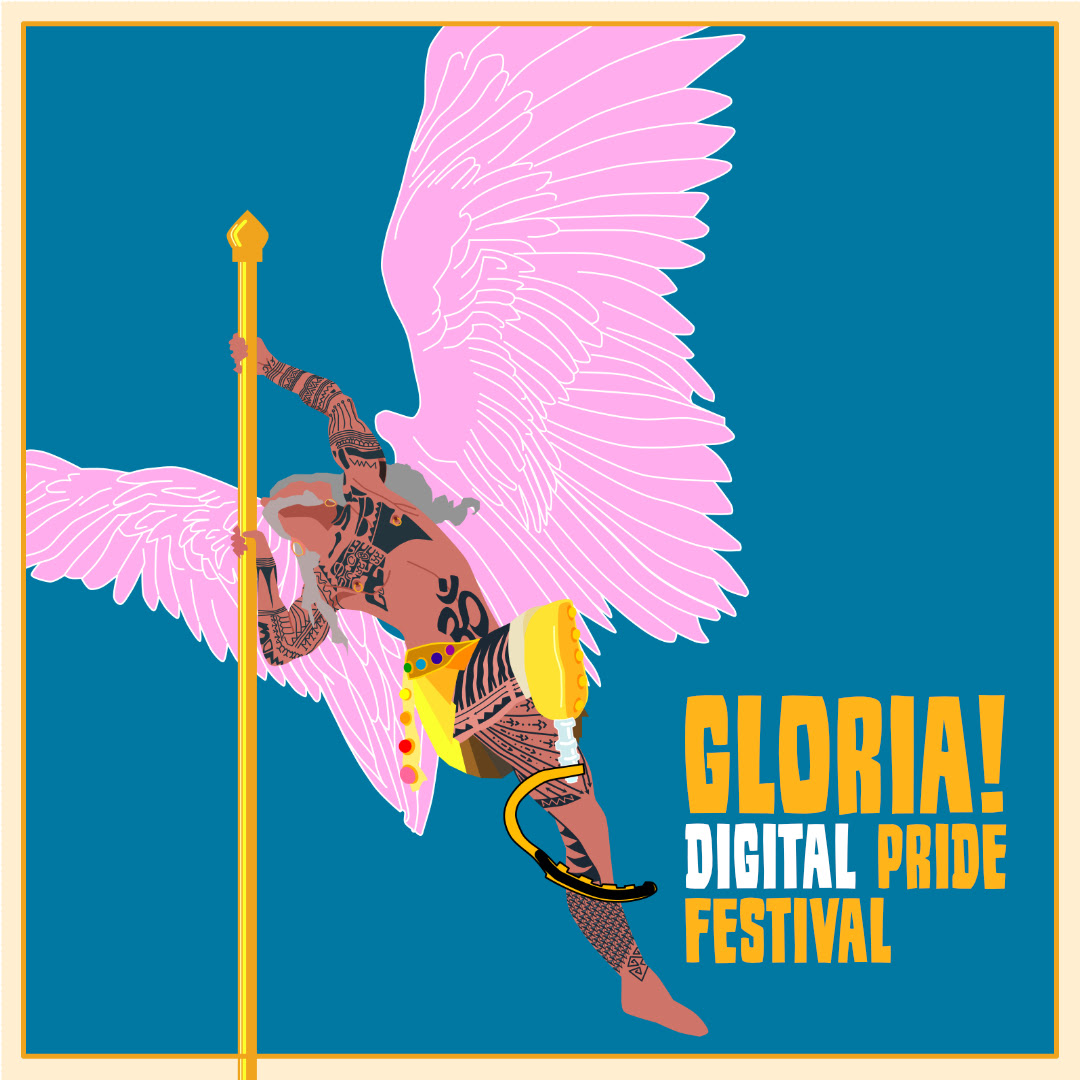 Competitions will start again soon I hope, I already have 3 next year on the worldwide circuit, which were moved from this year. I can't wait to get back on stage in front of a live audience!!!
Social links: