WARNING: These animated gifs may potentially trigger seizures for people with photosensitive epilepsy. Viewer discretion is advised.
Turkish street artist Kaybid is bringing a new meaning to the phrase "urban jungle." Thanks to Kaybid, (the name of the artist but also the name of the art movement) miniature wild animals line the streets of some of the biggest cities in Turkey. If you can't get all the way to Turkey to see Kaybid's art in person, don't worry. He recently released online photo galleries of his art, as well as stop-motion GIFs and merchandise such as stickers.
According to the Kaybid website, these little creatures are a combination of street art, painting, collage, GIF, animation, video art, and augmented reality. The project has been going on for over two years, and includes 400 collages of 30 different animal species. Because there are multiple collages of the same animal, when pictures of the art are put in rapid succession it looks like that animal is moving.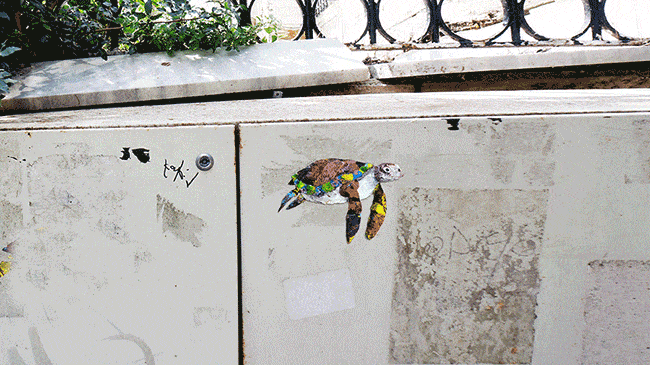 As to the meaning and purpose of the project, Kaybid's website says:
"Kaybid's animals that are silently wandering the streets may remind the viewer that the world does not only belong to the humans, or that the urban ecosystem is one that is quite alien to the organic realm."
By showcasing his art in urban bubbles, he's reminding people that don't usually think about wild animals that there are endangered species fighting for space and struggling to survive. 
Kaybid has made animal and climate conservation a known priority. The movement works in tandem with the World Wildlife Fund to create merchandise that funds animal conservation efforts. 
The name "Kaybid" actually comes from a made-up play on words that signifies the loss of values. "Things that used to be valuable to us but have lost their meaning along the way," according to an interview with Rive Droite et Ailleurs. 
He also told Rive Droite, "Humankind is strange. They only allow a few other species to share their habitat. The rest cannot live. Humans drive other beings away from them and hence result in their lost values."
https://www.instagram.com/p/B_Z_GZ7g9w7/
There's a lot of mystery surrounding the artist. Kaybid is a male, and he works alone. When asked about his age in the same interview, he simply responded, "I'm not very old, but I might not be considered young either." 
The originality and significance of Kaybid's work is no mystery, however. To view more art and read more about the Kaybid movement, you can visit his website, or simply stroll the streets of Istanbul.