Central Japan Railway just launched a new bullet train, complete with power-outlets in every seat, free Wifi, and the ability to run in the middle of an earthquake. 
The train N700S, which just started running commercially this month, is equipped with a lithium-ion battery self-propulsion system. In the event of an earthquake or a blackout, this allows the train to continue moving at a low speed to a safe location, rather than sit across a bridge or in a tunnel. N700S is the first of its kind to have this ability. 
This is the first time Central Japan Railway has released a new high-speed rail in 13 years. Before the spread of COVID-19, the project was expedited to be ready by the 2020 Olympics in Tokyo. Coincidentally, N700S serves the Tokaido Shinkansen line, inaugurated in 1964 to be used for the Tokyo Olympics that year.
The exterior of the train includes a more aerodynamic design – a combination of a more angular nose and sleeker headlights, according to CNN.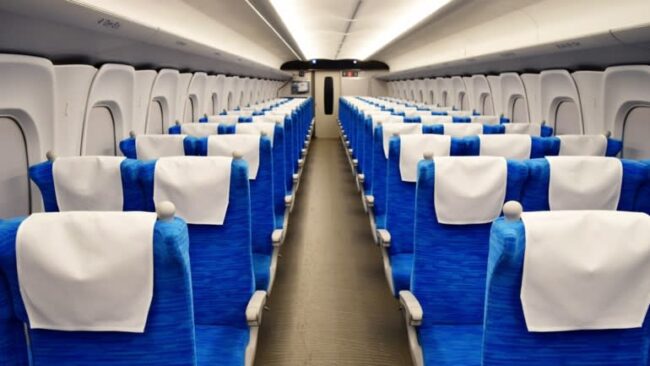 The interior of the train features upgrades to increase passengers comfort and safety. In addition to increased storage space, the overhead storage area lights up if a passenger has left something behind. The lighting throughout the train is designed to create a more relaxing environment, and the chairs recline to accommodate long-distance travelers. For better surveillance, there are up to six cameras in each train car. 
According to JR Central data, the Tokaido Shinkansen is Japan's busiest bullet train line, so speed is key. In a test run, the updated train reached a speed of 360 kilometers per hour. Though, while the train runs commercially, its speed will be capped at 285 kilometers per hour.
Passengers don't have to worry about feeling the increased velocity, however. The train features a new active suspension system, which should take out some of the bumps and noise. 
"We've put in place the best performance in every aspect," Masayuki Ueno, deputy head of the JR Central's shinkansen division, told Nikkei Asian Review.