Scientists have never proved that the moon directly affects the human body, but that hasn't stopped people from believing that it does. 
If you're one of those people, we've found the hotel room for you. The Screen Hotel in Kyoto, Japan has a built in light fixture that mimics the waxing and waning of the moon. Room number 103 allows guests to switch up the lunar cycle – setting a crescent moon for dim light or a full moon for bright light.
The room was designed by Kubo Tsushima Architects, an award winning partnership between Hideaki Kubo and Yumi Tsushima since 2011. The architects didn't have much natural light to work with, as room 103 has only one narrow window. So, they created the light fixture to remind people of the natural light of the moon. 
The corners of the room are rounded, adding to its uniqueness. 
"The corners of the walls and ceiling were rounded off with plaster," Kubo Tsushima wrote on their website. "In this secluded environment that feels as though you are inside the earth, the dimming functions of the light dramatically changes how the light spreads – as well as the mood of the entire room."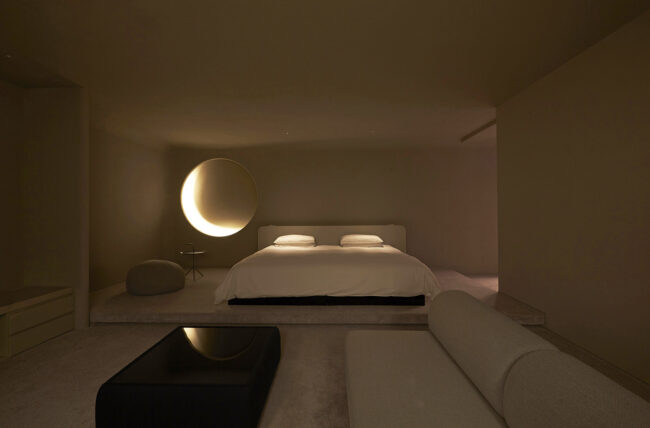 The pair also mention the power of the moon. 
"Just as the waxing and the waning of the moon influences the ebb and flow of the sea, these moon phases are also thought to impact the human body and emotions, as our bodies are also largely composed of water," they wrote. 
The moon room isn't the only design that Kubo Tsushima Architects have in the Screen Hotel. 
Room 401 is reminiscent of a quiet, misty morning. On one side of the room, natural light shines through a wide window. The other side features a light installation in a sliver of space between the ceiling and a wall – mimicking morning light.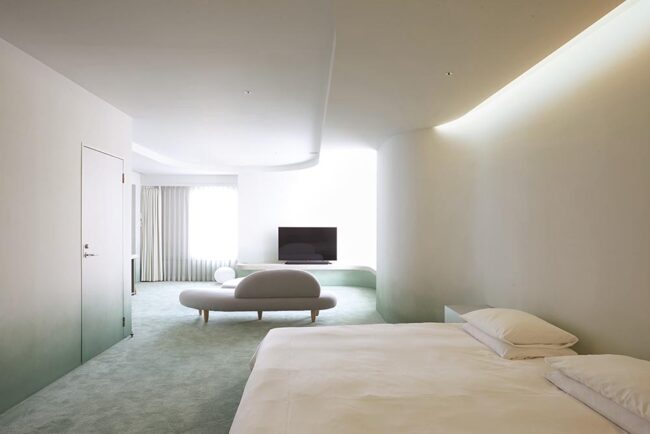 Their website describes the room like this:
"The sharp, bright light of dawn shines in on a faintly blurred image of a grassy plain, creating a special passage of pure, morning time, quietly enveloped in a deep fog. It is a dim, hazy scene with no defined edges, where you can spend a quiet stretch of time."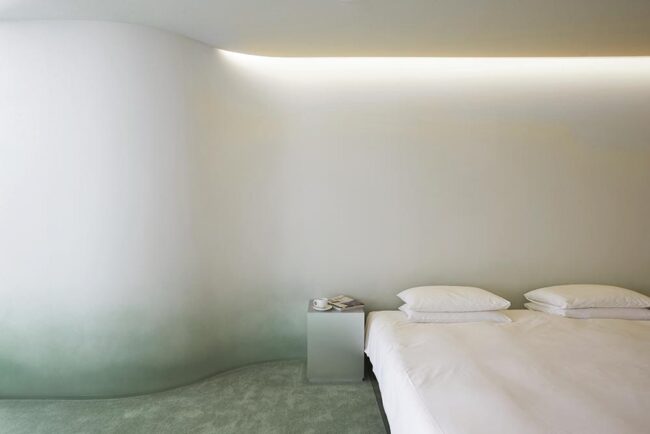 It seems that, whether you're an early riser or a night owl, the Screen Hotel in Kyoto has a room for you.