Do you want something other than a big, white wedding? Is your creative spirit too strong to tone down to just one colour? You may have something in common with artist Taylor Ann. 
Taylor Ann has been bursting with creativity her entire life. Ann knew that she had to be an artist – she just didn't know how to get there. She started young, arranging fruit baskets for her mom's friends. She wrote on her website that "for a kid like me struggling with learning disabilities, struggling to read or write, Art was the little light flickering at the end of the tunnel."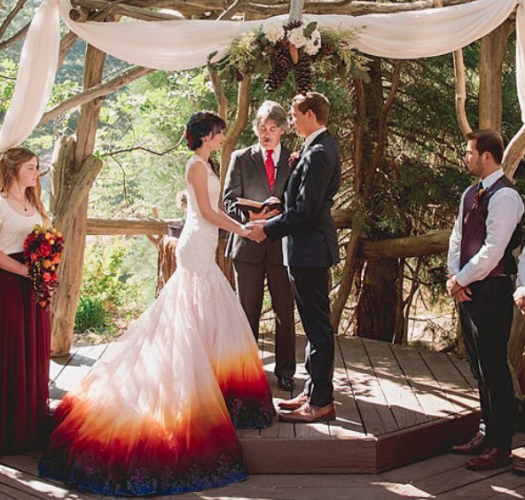 Ann faced many challenges while trying to find an art form that really stuck. Making a career out of art can be difficult, and in Ann's own words, she "failed" multiple times along the way. After getting married, she moved to San Diego and had to completely rebuild her client base. 
Luckily, she only had to wait a couple of months before her art took off in a way she never expected. 
Ann designed her own wedding. She matched the colors, arranged the flowers, and personalized her dress. At the bottom of her train she mixed a brilliant combination of purple, red, and yellow. This is what caught the public's eye. 
Overnight, a UK gossip magazine posted a picture of Ann's dress. Her head wasn't even in it, they cropped her out. However, that didn't stop thousands of people from finding her online. Once they found her, her brand skyrocketed. Hundreds of people started asking her to color their wedding dresses, and according to Ann, she "just said yes."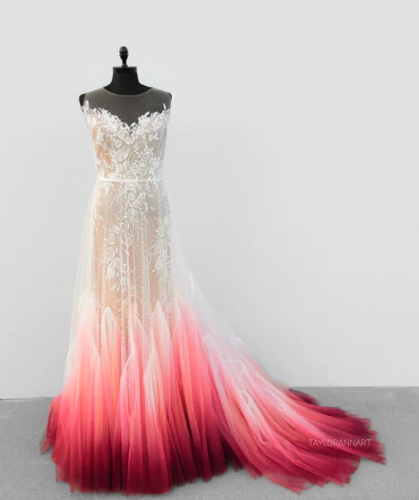 Now she has a full-blown business. She hand paints each wedding dress, and each one is unique. Rather than create entirely new dresses, she paints and repurposes donated or thrifted ones. 
She uses an air-brush to blend her beautiful array of colours, just like she did with her own dress.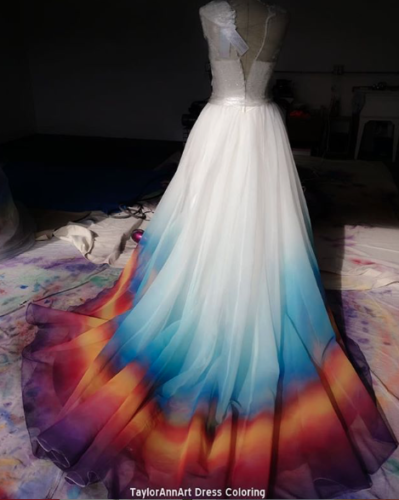 As amazing as this new opportunity is, Ann says there are still some hard times. "This business has been one of the hardest challenges I have ever faced," she wrote. "The stress more than one can bear but I'm not alone."
If you want to inquire about working with Ann for your big day, you can book an appointment on her website.