With the anticipation of new launches this summer comes the 13th of July opening of OenoHouse; a golden jewel of a shop in a Grade II listed building at The Royal Exchange. The epitome of old English charm, the shop spoils clients with an extensive menu of the best wine in the world. With 2,500 bottles in store and further access to over 45,000 bottles of vino, anyone can come in for a wine tasting on the outside terrace.
OenoGroup is a top wine investment firm with offices all over the world from New York, Madrid, Bordeaux to Munich. The innovative concept takes it beyond a simple wine investment platform. OenoGroup advises both experienced wine investors and novices of all ages which wines to invest in. Such as property and art, wine can be a very lucrative growing asset and the Oeno team has the best advisors on hand to help. Master of Wine Justin Knock is the in-house Chief Wine Advisor and Oeno even have an in-house anti-fraud unit.
The Oeno team regulate each wine bottle, producing a high-tech hologram label guaranteeing authenticity. Our fine wine team source top-quality investment grade wines direct from wineries all over the globe, as well as selected bottles from trusted collectors. At every stage of the process strict anti-fraud procedures are applied to ensure impeccable provenance and authenticity.
Measures used by the anti-fraud team in their assessment process include checking the glass, capsule, cork, and labels against our comprehensive database using tools like electron microscopes and professional-grade UV lights.
Bottles which meet our stringent criteria are approved by the wine team and issued with OenoFuture certification. Each approved bottle is given a unique numbered label which cannot be removed as a guarantee of their provenance and authenticity.
"After a year of intensive research and development, Oeno has achieved an industry-first with the launch of our Anti-Fraud Unit. Our stringent certification process incorporates techniques employed by leading wine fraud experts over the globe. We have made it our mission to give our clients complete peace of mind with every investment they make with us, as well as committing to fighting wine fraud to make the wine industry a safer place for everyone." Mattia Tabacco, Head of Oeno's Anti-Fraud Unit
Founded by Italian wine expert Daniel Carnio in 2015, OenoFuture is a personalised wine advisory service born out of a vision to make the fine wine market accessible to all investors regardless of their exposure to the industry.
In 2017, former city traders Michael Doerr (Oeno MD) and Daniel Walker (Oeno Head of Investment) joined the business and successfully increased turnover whilst gradually implementing 36 full time key staff over the past 4 years like Master of Wine Justin Knock (Oeno Chief Wine Analyst), Mattia Tabacco (Head of Oeno's Anti-Fraud Unit) and Spain's 1st female Master of Wine Almudena Alberca (Oeno's Brand Ambassador of Spain).
The Oeno family has been disrupting the wine market since 2015, bringing a welcome breath of fresh air to the world of wine investment and fine wine sales. OenoFuture is their award-winning wine investment service offering fully-managed service that is second to none. Their expert insider knowledge and investment expertise yield market-beating profits, putting them at the cutting edge of a fast-paced market.
Closely linked to OenoFuture is OenoTrade which connects the novice or seasoned wine investor with the private trade sector.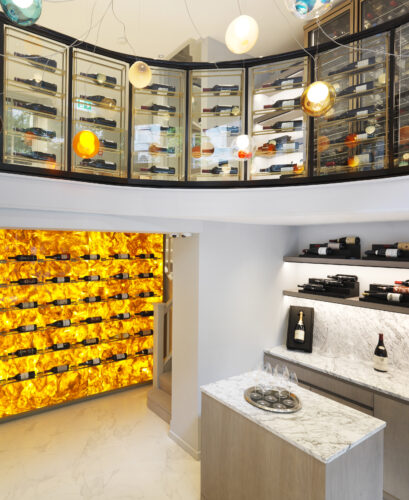 OenoHouse will be showcasing regular rotating pop-up appearances from some of the Oeno team's favourite brands such as Penfolds, Domaine de la Romanee-Conti, and Liber Pater.