The Other Art Fair has teamed up with leading typography artist Rachel Joy Price who will be creating a striking new mural for the London edition of the fair in collaboration with CALM. The vibrant, large-scale piece will take over a significant space in King's Cross outside the Fair in West Handyside Canopy from 1-4 July, spreading a positive, hopeful message to The Other Art Fair's visitors as they enter the fair. It will be bursting with colour and creativity, changing the urban scape and offering a much-needed spark of rejuvenation as we emerge from lockdown and return to creative spaces.
In 2019, The Other Art Fair began working with Campaign Against Living Miserably (CALM) by launching the CALM Art Collective. The art collective brings together artists and art lovers to explore life's issues, wellbeing and mental health through creativity. This year, the fair's Virtual Edition will also present a selection of artworks from members of the group. Rachel's mural exists as a wonderful development of this collaboration.
CALM (Campaign Against Living Miserably)
CALM is a charitable organisation leading the movement for suicide prevention. In light of the startling fact that every week 125 people in the UK take their own lives, 75% of these being men, CALM founders launched their initiative to provide hope and real help to those in need.
They are offering life-saving services such as such as 24-hour call lines, online conversations, therapeutic interventions, and bringing people together to reject living miserably by standing united against suicide. The movement is comprised of thousands of people and continues to grow every day, as their positive message spreads wider and wider. Their ultimate goal is a more hopeful society where everyone can thrive collectively and support each other through challenging periods. During the recent lockdowns and turbulent circumstances, CALM's vital lifeline has become even more essential, and they have offered unconditional support to anyone in need.
Visit CALM'S website: www.thecalmzone.net
Rachel Joy Price is a lettering artist based between London and Paris. Her passion for typography could be considered genetic, as she is descended from a Great Grandfather who was part of the team of sign painters who worked on the Titanic.
Rachel's work is versatile, spanning a variety of media from traditional sign painting for commissions as art pieces, to large scale outdoor murals. She crafts scripts and 3D lettering for brands worldwide, working on advertising, packaging, identity, book covers and prints. She brings letters to life, making them into 3D forms, using modern, eye catching and joyful colour combinations.
On her work with CALM, Rachel Joy Price says: "It's a pleasure to be painting a piece for The Other Art Fair + CALM, I really believe in the power art has to convey a message, bringing a moment of joy particularly in public spaces. I find the process of creating often like therapy, a healing space sometimes, and so this is a special one to share that process with CALM and put something out in public that connects with people."
CALM adds: "This year we've had the opportunity to work with Rachel Joy on a mural with a powerful message of hope and emotion – and she was the perfect artist to translate it into her unique style. A big thank you to both The Other Art Fair and Rachel for making this happen and helping to get the word out there (literally), use creativity to challenge the stigma that prevents people talking about suicide and help promote CALM's movement to live a life with more hope."
Saatchi Art's The Other Art Fair will be London's first in-person art fair of the year, with an incredible line-up of exciting emerging artistic talent, a star Guest Artist, unique collaborations and amazing live features. The popular four-day event returns from 1-4 July 2021 and will see the UK's leading artist-led fair take over West Handyside Canopy in King's Cross, a beautiful, partially covered outdoor space for the fair's 19th London edition.
The fair presents art enthusiasts the unique opportunity to meet over 110 inspiring artists, discover thousands of artworks suiting every budget and style, and get involved in a programme of unique visitor features. Creativity and culture are fundamentally at the heart of The Other Art Fair. This year includes a vibrant line-up of DJ sets, bespoke tattooing, and incredible installations, all within a safe and accessible environment in line with the newly established Safer Fair Plan.
A vibrant selection of 110 UK based artists has been chosen by the fair's committee, maintaining a 50/50% ratio of male/female, and including participants spanning all disciplines. The event is unique compared to other art fairs because of its artist led approach, putting creators in touch directly with their audiences.
For the full list of participating artists visit: www.saatchiart.com/studios/theotherartfair/london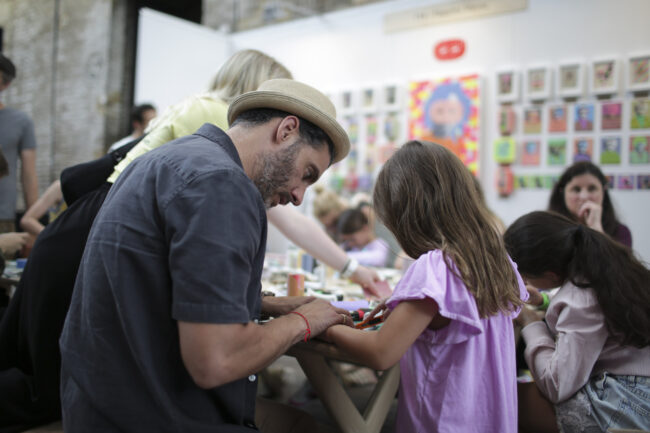 The Other Art Fair offers astute collectors the chance to discover and purchase work directly from global contemporary art's rising stars, with editions now in London, Brooklyn, Los Angeles, Chicago, Dallas, Toronto, Sydney and Melbourne.
The selection committee for London's July fair includes Rebecca Wilson, Chief Curator and VP Art Advisory, Saatchi Art, Kaia Charles, Cultural Commissioner and Curator, NOW Gallery, Tabish Khan, Art Critic, and Joe Kennedy, Co-founder and Director, Unit London.
The Other Art Fair London Virtual Edition will follow immediately online from 6-11 July. The first fully three-dimensional virtual reality art fair, it allows visitors a completely interactive art fair experience – they can navigate a traditional fair layout, browse stands, and in keeping with the ethos of The Other Art Fair, enjoy unparalleled direct access to the most exciting new artists. www.theotherartfair.com.