Celebrating the joy of the everyday, Unit London's latest exhibition invites you in to enjoy 'La Grande Bouffe' ('The Big Feast'). In this the first solo UK show by Belgian artist Kristof Santy, the artist focuses his observations around the everyday, foregrounding the seemingly mundane and presenting figurative work based on mythological stories and stylised still lives.
Inspired by folk tales and customs, Santy's work often makes reference to artists such as Philip Guston and Jean Brusselmans, as well as popular prints by anonymous artists – and his practice has a wealth of references, from folk art to Pop Art, arthouse film to vintage cookbooks from the 60s and 70s.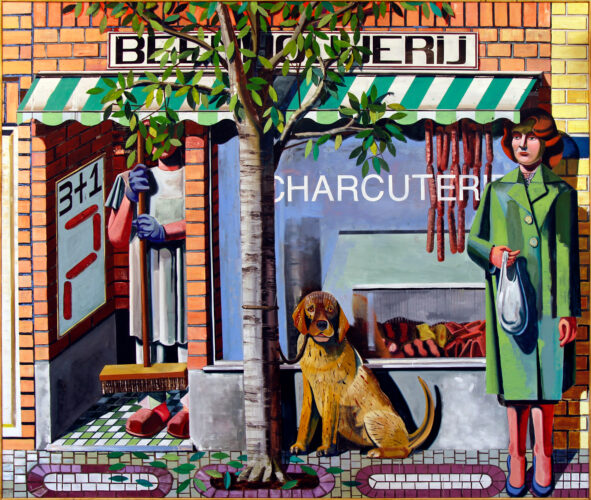 'La Grande Bouffe' explores the simple pleasures of everyday gastronomy, but it does so in a way that is hyper-saturated and unexpectedly celebratory. The act of cooking may seem ubiquitous, but in Santy's vivid oil paintings, humble meals are presented as decadence and grandeur at its most excessive.
Characterised by flat planes and eye-popping, bright palettes, the 17 new paintings unveiled in this exhibition position everyday food items – such as a wedge of cheese, some chips or a lemon squeezer – as the protagonist in a bizarre, enigmatic scene, often set against textured tile backdrops or striped wallpaper. In the carefully constructed compositions, most of the works are devoid of human (or animal) life altogether, but when people do feature, they are rigid and emotionless, like lifeless dummies. They are not the stars of this show, and as such the artist purposefully ensures the paintings elude any sense of narrative. This resistance to storytelling is heightened by Santy's characteristically flattened perspective, which does not give way to depth. Instead, the artist's paintings pay homage to daily life, returning to the universal fundamentals of what makes us all human.
Santy's subject matter holds the universal experience of food at its core whilst framing it within his own personal context. His life mirrors his art as he strives for a simple existence, travelling only by bike or by foot, and appreciates the familiar comfort of his locale. Through his ongoing practice and in this exhibition, Santy captures these fleeting snapshots of his life reminding viewers to see the remarkable in the seemingly unremarkable aspects of the everyday.
Kristof Santy: La Grande Bouffe runs at Unit London until 6 August 2022.